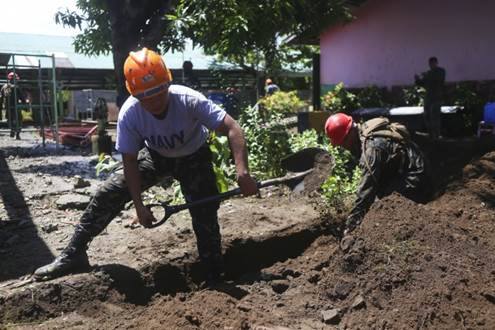 us Marines and Sailors with the 3d Marine Expeditionary Brigade (3d MEB) have been working alongside their Armed Forces of the Philippines counterparts to repair portions of the Palawig and San Vicente Elementary Schools in Cagayan Valley from Sept. 23 – Oct. 11. The construction work is part of Philippine Amphibious Landing Exercise 33 (PHIBLEX), a U.S.-Philippine bilateral military exercise that includes community assistance projects. In addition to repair work, members of the U.S. armed forces are also conducting first aid and dental hygiene classes for approximately 60 local students.
3d MEB's presence in the Asia-Pacific region facilitates quick response to areas affected by humanitarian disasters to save lives and reduce human suffering. Bilateral exercises such as PHIBLEX 33 ensure the U.S. and Philippine armed forces train together to respond effectively during a real-world humanitarian disaster.
3d MEB is in the Philippines to participate in PHIBLEX 33, which is a signature element of the Philippine-U.S. alliance focused on a variety of missions to include humanitarian assistance and amphibious capabilities demonstration.