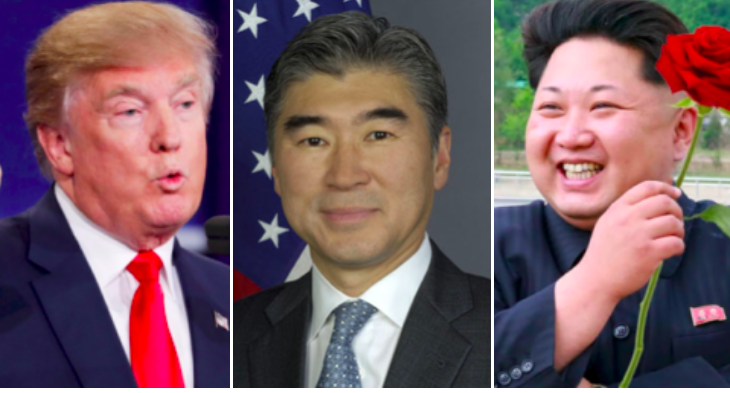 The USA's ambassador to the Philippines is playing a key role in setting up the on-off-on meeting between North Korean leader Kim Jong-un and President Trump.
Ambassador Sung Kim, a former US ambassador to South korea, who has previously negotiated with the North, has been called from his duties in Manila to help arrange the historic summit.
The talks were expected to continue today (Monday, May 28) and tomorrow at the demilitarised zone.
The talks are focused on the crux of the potential summit – the issue of north korea's nuclear weapons programme.
"I truly believe North Korea has brilliant potential and will be a great economic and financial Nation one day," President Trump said on Twitter.
"Kim Jong-un agrees with me on this. It will happen!" the president said, confirming that a US team "has arrived in North Korea to make arrangements for the summit".
His words are in stark contrast to those of only three days earlier, when the president cancelled the summit, citing "open hostility" from the North.
A flurry of diplomacy since then – much of it led by South Korea – appears to have put the meeting back on track.
Kim and South Korean President Moon Jae-in met at the demilitarised zone on Saturday in a surprise bid to salvage the proposed summit in Singapore.
Announcing the lower-level talks held yesterday, US State Department spokeswoman Heather Nauert said: "We continue to prepare for a meeting between the president and North Korean leader Kim Jong-un."
The Washington Post has reported that the US delegation met with North Korean Vice Foreign Minister Choe Son-hui.
The US currently has no ambassador to South Korea and does maintain an embassy in the north.
Sung Kim was joined by Allison Hooker, the Korea specialist on the National Security Council, and an official from the US Defence Department.
Sung Kim, who was born in South Korea and was a key diplomat in the 2005 six-party talks, served as ambassador to South Korea from 2011 to 2014, then became special representative for North Korea policy.
His North Korean counterpart, Choe, also has years of experience working on these issues and is well connected within the North Korean hierarchy.
In addition to the border talks, White House spokeswoman Sarah Huckabee Sanders said a "pre-advance team" left for Singapore yesterday to work on logistics for a possible summit.
In their Saturday meeting, Kim reaffirmed his commitment to "complete" denuclearisation of the Korean Peninsula and to a planned meeting with Trump, Moon said.
Moon acknowledged Pyongyang and Washington may have differing expectations of what denuclearisation means and he urged both sides to hold working-level talks to resolve their differences.
Trump initially scrapped the June 12 summit after repeated threats by North Korea to pull out over what it saw as confrontational remarks by US officials demanding unilateral disarmament.