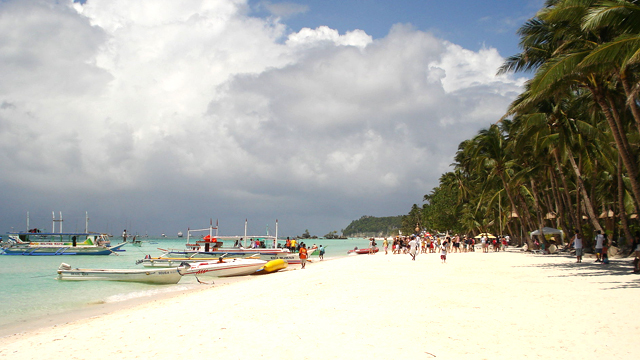 A Dutch tourist had his pocket picked after being pestered for sex by a transgender person on boracay Island's seafront.
The theft is just the latest crime recorded on the recently reopened island resort, where police say at least two criminal gangs are now operating.
Last month we reported how an Italian tourist fell prey to distraction thieves, who stole his wallet from a bag he walked with his Filipina girlfriend along the seafront. 
Two suspects for that theft – Carlo Vargas, 41, and Reynaldo Buenafe, 39, from Oton, Iloilo – were arrested on firearms charges during a halloween night party.
The latest theft on the island was revealed by police today (Wednesday, November 7).
They described how a 36-year-old Dutch tourist was targeted on the beachfront of Station 2 at about 1.30am on Monday.
The suspected thief, identified as transgender Glen Hermo delos Reyes, aged 21, from Passi, Iloilo, tried to persuade the tourist to have sex. He refused.
In the meantime, unknown to the victim, Delos Reyes had lifted 2,100 pesos in cash from his pocket. When he realised what had happened, the tourist tried to chase Delos Reyes but failed to catch them.
However, later in the day, he spotted Delos Reyes at the beachfront. He accosted Delos Reyes and delivered them to Boracay police station.
In addition, three other suspected thieves were arrested by police in Barangay Balabag on Sunday (November 4).
Daniel Discutido, 21, Jessler Casimero 17, and Emie Santiago, 21, are alleged to have stolen 500-pesos worth of goods and 1,000 pesos from a till at a local store. The trio were identified using footage from the business's CCTV camera.
Meanwhile, visitors to the island are facing fines for breaking the island's strict new rules. So far, tourists have been penalised for smoking, drinking on the beach, dropping litter, building a sandcastle and driving a motorcycle on the beach.
Follow our Facebook page for daily news updates