Three officials of the state-owned insurer Philippine Health Insurance Corporation (PhilHealth) filed resignation over alleged corruption inside the agency, a source revealed Thursday night.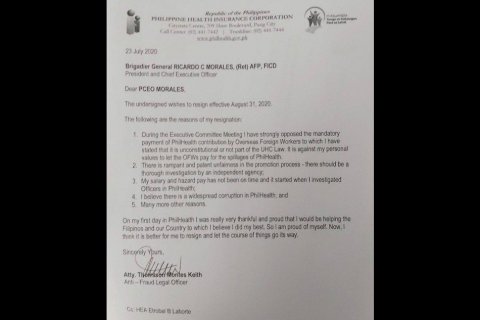 The resignations came after a Zoom online meeting wherein the alleged corruption in PhilHealth was discovered. The incident triggered a heated argument among officials of the agency, the source said.
One of the identified officials who resigned was lawyer Thorrsson Montes Keith, an anti-fraud legal officer of Philhealth. Keith's resignation letter surfaced online.
"The undersigned wishes to resign effective August 31, 2020," Keith said in a letter addressed to PhilHealth president and CEO Ricardo Morales dated July 23, 2020.
He said that during the Executive Committee Meeting, he has vehemently opposed the mandatory payment of PhilHealth contribution by Overseas Filipino Workers to which he has stated that it is unconstitutional or not part of the UHC Law. He added it is against his values to let the OFWs pay for the spillages of Philhealth.
The official also said there is a rampant and patent unfairness in the promotion process and suggested that there should be a thorough investigation by an independent agency.
Keith also revealed that his salary and hazard pay have not been on time, and it started when he investigated Officers in Philhealth.
"I believe there is widespread corruption in PhilHealth," Keith said.
"On my first day in PhilHealth, I was really thankful and proud that I would be helping the Filipinos and our Country to which I believe I did my best. So I am proud of myself. Now, I think it is better for me to resign and let the course of things go its way," the lawyer ended his letter.
PhilHealth, meanwhile, has yet to issue a statement regarding the resignations, as of posting.
Presidential spokesperson Harry Roque earlier vowed he would reveal the corruption and new anomalies at PhilHealth soon, adding if he could, he would commit full-time on cleaning the state insurer.
Roque issued the statement after PhilHealth president Ricardo Morales revealed it sees to have a fund deficit by 2024 based on the current COVID-19 scenario in the country.
But Roque insisted corruption is draining PhilHealth's funds.