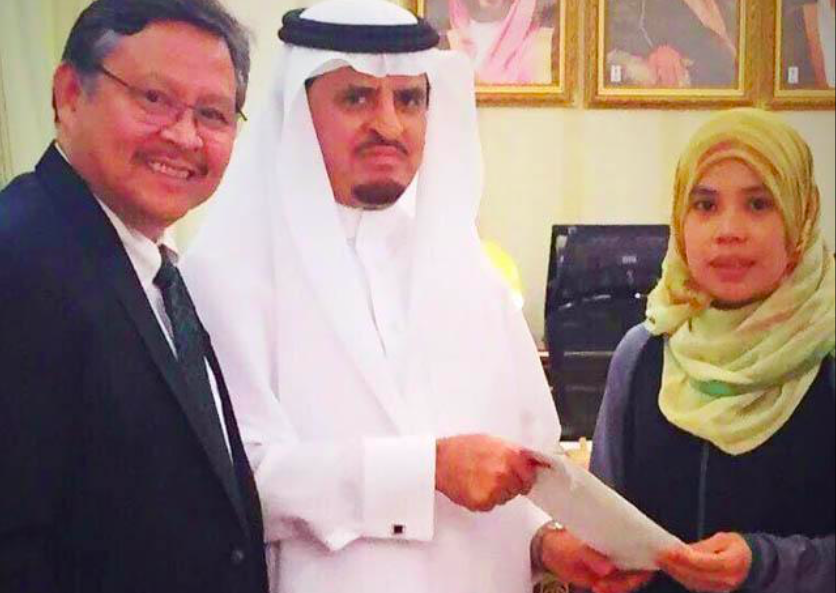 A Filipina maid who was scalded with boiling water by her Saudi Arabian employer is due to arrive home after a four-year battle for justice.
Pahima Alagasi set off for for Manila yesterday (Thursday, April 12) after the Philippine Embassy in Riyadh secured the assistance of Saudi authorities to finally clear her exit, the Department of Foreign Affairs has announced.
Alagasi left the Philippines in March 2014 to work as a domestic helper in Riyadh.
Two months later, she sought refuge at the Embassy suffering serious burns, which she claimed were caused by the mother of her employer pouring boiling water on her back.
The Embassy helped Alagasi, from North Cotabato, to file a charge of maltreatment against her attacker. However, this was thrown out of court after she was unable to prove her accusation.
The separated mother of two had been staying at an Embassy shelter since then — unable to return home because her employer had filed a counter case against her.
Philippine ambassador Adnan Alonto praised the critical role played by Interior Minister Prince Abdulaziz Bin Saud Bin Naif, who eventually stepped in to allow her to leave the kingdom.
The envoy said: "Pahima's return would not have been possible without the help of Prince Abdulaziz and we would like to express our profound gratitude to him for his magnanimous gesture.
"Finally, after four long years, Pahima will be able to again embrace her children who she left behind in Mindanao more than four years ago."
The ambassador is accompanying Alagasi on her homecoming flight.
He told the Philippine News Agency how it was Saudi Deputy Interior Minister Nasser Al-Daood who informed him at a meeting last Sunday that Alagasi was free to go home.
At the same meeting, Al-Daood presented Alagasi with two months of unpaid wages from her employer.
Alagasi expressed gratitude to the Philippine government and Prince Abdulaziz for coming to her assistance.
Another Saudi maid's complaint
On the same day as Alagasi's departure from Saudi Arabia, another Filipino domestic helper in the country accused her employer of pointing a gun at her.
In a video posted on social media, "Rose" said she had been experiencing constant verbal abuse from her employers, a Saudi couple, since she started working for them last June.
She also alleged that her employers didn't feed her properly and made her work for more than eight hours a day.
She said decided to speak out after her male employer, a Riyadh policeman, threatened her with a gun.
Rose, also said she had been locked inside the house by her employers and that when she reached out to her recruitment agency in the Philippines, the firm refused to believe her and instead told her to pay 200,000 pesos if she wanted to go home.
According to a report on GMA News, the Overseas Workers Welfare Administration is now taking action on her behalf.