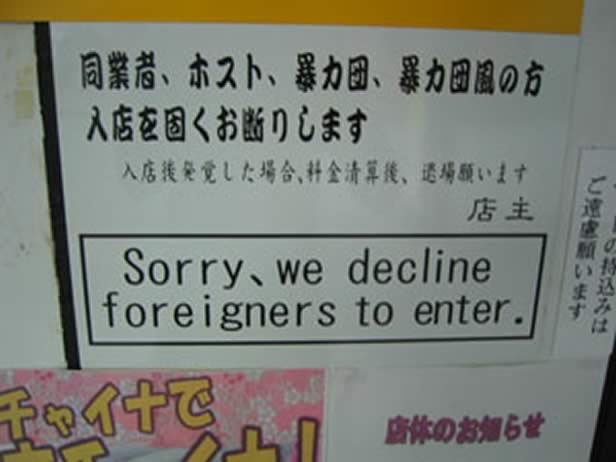 Nearly forty per cent of foreigners seeking housing in Japan are turned down because they are not Japanese, a government survey has revealed.
Nearly 27 per cent of more than 2,000 foreign residents questioned also reported giving up on a potential residence after discovering a notice saying "no foreigners allowed".
One foreign resident, a Filipina in her forties, who was quoted in the survey, said: "The landlord told me and my husband that the house is not for foreigners.
"We visited a different real estate agent, but they said a Japanese guarantor was required. We explained that we were both permanent residents, only to be declined because we did not meet the conditions."
The survey was launched as the country prepares for a huge influx of visitors for the 2020 Tokyo Olympics and Paralympics.
The number of foreign residents reached an all-time high of 2.38 million at the end of 2016, up 6.7 per cent on the year, according to the ministry.
The survey was conducted by the Centre for Human Rights Education and Training in November and December last year. The centre mailed surveys to 18,500 foreign residents and received 4,252 responses.
Chinese and South Koreans combined accounted for over half of the adult respondents, followed by Filipinos, at 6.7 per cent, Brazilians, 5.2 per cent, and Vietnamese, 4.8 per cent.
Of the 2,788 respondents who either worked in Japan or were looking for work here, 25 per cent said they were denied employment because they were not Japanese. The report suggested that language ability did not seem to be the problem, as nearly 95 per cent said they spoke Japanese.
About 20 per cent of those working in Japan said they received lower pay than their Japanese counterparts doing the same job.
Nearly 30 per cent said they had been the target of derogatory remarks or insults due to their ethnic background.