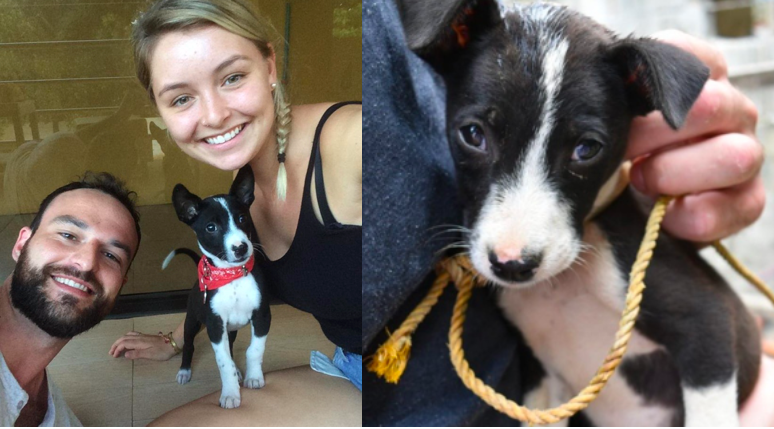 A British couple are appealing for help to take home Peso the puppy, after they rescued him while enjoying a vacation in El Nido, Palawan.
When Chloe Henley and Alex Jewkes first discovered him, Peso — as they have since named him — was malnourished and dehydrated. The owner kept him tied him to a post with a short rope next to a building site.
When the couple asked him about the dog, he said they could take him. They have since been nursing him back to health.
Thanks to this care and attention, and a series of veterinary treatments, the dog is now much healthier and growing quickly. Miss Henley said that it is "a long process but he is absolutely deserving".
However, the couple's visas — which they have already renewed — are due to run out late next month. They fear that unless they can complete a series of further treatments and tests they may be forced to leave Peso behind. 
One of the main stumbling blocks is the rabies vaccination. Blood tests have to be made 30 days after the injection before paperwork can be signed off.
Miss Henley said: "Although Peso is happy in his last few photos, this is only temporary as our Filipino visas will end late February.
"If we are unsuccessful, we will have to leave Peso in the Philippines."
Should they be forced to leave Peso behind, they are hoping to raise funds to pay a local vet to look after the puppy until he can be transported. 
On Sunday (January 20), they set up a GoFundMe page to help them cover some of the costs.
The couple say any excess cash will be given to a suitable animal charity in the Philippines. After two days, they have raised £810 towards a £3,500 goal.
For more information about the couple's fundraising campaign, click here.
Follow our Facebook page for daily news updates