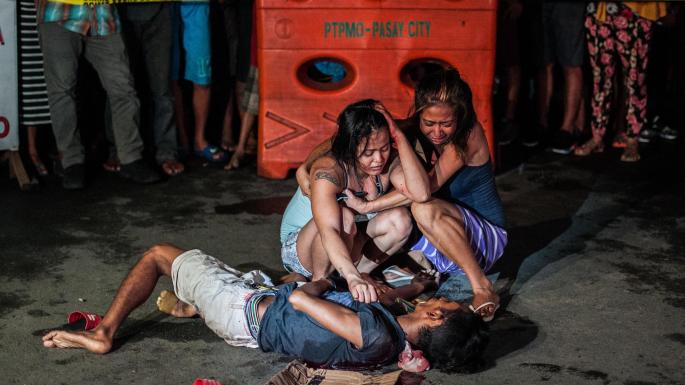 A police spokesman claimed today (Friday, October 6) that there was "officially no cases" of extrajudicial killings under the Duterte administration.
Chief Superintendent Dionardo Carlos issued the statement this afternoon. He said it was intended to correct an earlier statement today when he said there had been one single EJK.
This morning he said: "The Philippine National Police (PNP) protects every individual's right to life. To allay or remove their fear of becoming victims of extrajudicial killings, let it be known that under the present administration, there is only one case of extra-judicial killing for the period July 1, 2016, to September 30, 2017."
The statement was in response to the results of a Social Weather Stations survey which showed that seven in 10 Filipinos fear that they may become victims of extrajudicial killings.
The single killing he was referring to was the case of slain journalist Larry Que in Catanduanes. He was gunned down in Virac on December 20 last year.
Catanduanes Governor Joseph Cua, and police officer Vincent Tacorda — who blew the whistle on the killing — were implicated in Que's case.
Although Tacorda has since withdrawn this accusation, Chf. Supt. Carlos said Que's case was still considered an extrajudicial killing.
"Tacorda retracted his statement but Que is still dead, so the case still stands," he said this morning.
However, in his later statement, the police spokesman corrected himself, after his "mistake" had been pointed out to him.
"I was corrected by T F Usig that the Larry Que case is not a confirmed extrajudicial killing case. So officially, no case. I stand corrected," he said just after 4pm.
Despite this revised claim, the PNP has recorded about 3,850 drug suspects killed in anti-narcotic operations. A further 2,290 killings suspected to be linked to the drug trade have also been recorded, and are under investigation.
Extrajudicial killings defined
Cops in Caloocan City have also come under fire for the killings of teenagers Kian delos Santos and Carl Arnaiz.
The police spokesman clarified that the PNP used the definition of extrajudicial killing as provided under Administrative Order 35. This was issued by the Aquino administration and signed by by then Justice Secretary Leila de Lima
AO 35 described extrajudicial killing victims as members or advocates of political, environmental, agrarian, labor, or similar causes; media practitioners and persons mistaken to be so.
Common criminals such as drug addicts, drug lords and drug pushers were not mentioned as among potential extrajudicial killing victims under the order.
Foreign Secretary Alan Peter Cayetano used the same definition when he made a presentation to the UN Human Rights Council in May.
According to the international definition, an extrajudicial killing is an execution done by government actors without going through the legal process.