The Twitter account of PLDT customer service has been hacked and hackers threatened to go after another telco Globe next.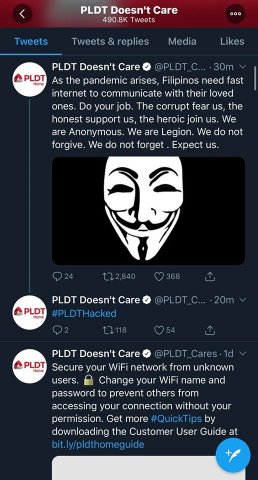 The hackers replaced the account's name with "PLDT Doesn't Care."
"As the pandemic arises, Filipinos need fast internet to communicate with their loved ones. Do your job. The corrupt fear us, the honest support us, the heroic join us. We are Anonymous. We are Legion. We do not forgive. We do not forget. Expect us," the hackers tweeted using PLDT's customer service account. 
It then tweeted, "@enjoyGLOBE You're next. #PLDTHacked" threatening another internet provider Globe Telecom.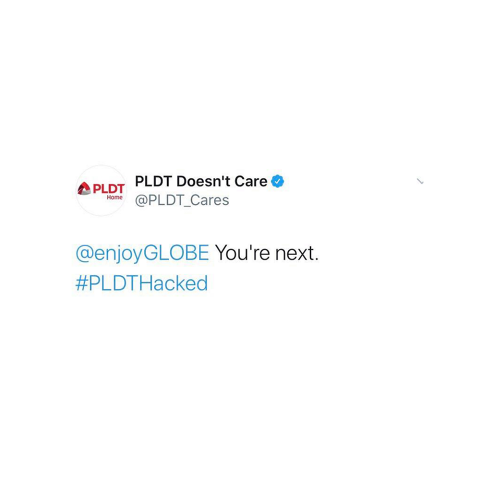 The hackers again posted "PLDT Login Info "Login": PLDT_Cares "Password": #Nakapagpapabagabag0117″ a few minutes ago.
The said account has over 109,000 followers. PLDT has yet to issue a statement regarding the hacking incident. 
PLDT, Inc., formerly known as the Philippine Long Distance Telephone Company, is telecommunication, internet, and digital service holdings company in the Philippines. It is one of the country's major telecommunications providers, along with Globe Telecom.
In 2016, the Philippine telecoms regulator has given PLDT and Globe a year to boost chronically slow internet speeds or it will revoke approval to take overprized spectrum agreed as part of a $1.5 billion deal.
The deal for use of the 700 megahertz spectrum is part of Philippine Long Distance Telephone Co (PLDT) and Globe Telecom's joint acquisition of conglomerate San Miguel Corp's telecoms business for 69.1 billion pesos ($1.48 billion).
"We gave them one year to improve the service," National Telecommunications Commission (NTC) deputy commissioner Edgardo Cabarios told Reuters by telephone. "The idea there is for us to close the gap because we are far behind our neighbors like Malaysia and Singapore."
The Philippines has one of the slowest internet services in Asia, placing 21st out of 22 countries, according to analytic firm Ookla.
PLDT spokesman Ramon Isberto said his firm is mobilizing resources to be able to start using the 700 Mhz spectrum and other frequencies "as early as possible within the year".
"We gave a timeline that said mobile internet services will improve progressively within the next 12 months," said Yoly Crisanto, a Globe spokeswoman.
However, PLDT and Globe customers until now experience slow internet connection, prompting them to heavily criticized the two providers.