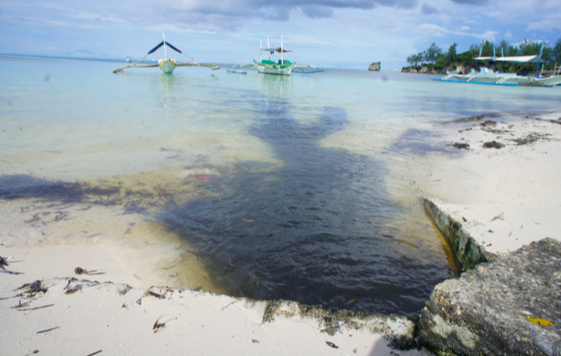 Speaking at the Second Philippine Environment Summit in Cebu City, Environment Secretary Roy Cimatumade said of 2,600 establishments on the island, about 834 were at fault.
He also said the environmental problems had been caused by three factors: An influx of tourist numbers beyond the island's carrying capacity; poor implementation of environmental laws; and illegal encroachment on 'easement areas' and forest lands.
As we recently reported, President Duterte called Boracay a "cesspool" and gave the Department of Environment and Natural Resources (DENR) six months to tackle its problems.
The president event threatened to close the island entirely if the DENR failed in this mission.
As a result, Mr Cimatu has deployed additional manpower — which he described as his "mission team" — to tackle the problems.
He said: "The mission of the team will be to rehabilitate and restore Boracay in becoming again a paradise. We are given six months by the president.
"We will be using all our government and the DENR assets and personnel to do this job. Those who will be deployed will be on a rotation basis."
Mr Cimatu said Environmental Management Bureau Director Metodio Turbella was already on the island to assist with the rehabilitation.
"Expect that the DENR will be there, about 50 personnel from all over the regions and from Central Office. We will start it right now, our presence in Boracay," he said.
The local government of Malay town has pledged its full cooperation to the efforts. A council statement said: "The municipal government offers its full cooperation in the rehabilitation of Boracay within six months."
The DENR secretary also said he was sending 12 teams of about 100 DENR personnel to inspect the pipelines of every establishment along the beachfront.
"We shall not relent in our efforts until we have turned around the condition of Boracay," Mr Cimatu vowed.