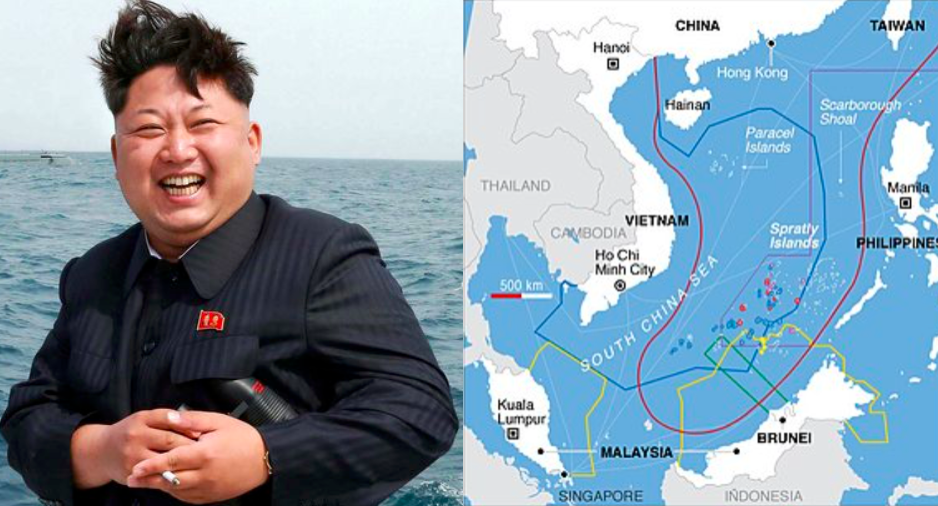 The clashes over the South China Sea and conflict with North Korea are two of the biggest threats to the global economy, a new report has claimed.
According to the The Economist Intelligence Unit (EIU), an outbreak of hostilities in the disputed maritime region — also known as the West Philippine Sea — is third in terms of probability and impact on the world's economy.
The top two risks, according to the EIU report, are a prolonged fall in major stock markets that could destabilise the global economy and a trade war provoked by American protectionism.
A major cyber-attack crippling corporate and government activities is fourth on the list of threats to the global economy, the report said.
"Other key risks identified include a disorderly and prolonged Chinese slowdown, a major military confrontation on the Korean peninsula, and outright conflict in the Middle East between Iran and Saudi Arabia," it added.
The Philippines, China, Vietnam, Taiwan, Malaysia and Brunei all have claims within the South China Sea, through which $5 trillion worth of trade passes every year.
In 2016, a UN-backed tribunal invalidated China's expansive claims to nearly all the waters, which Beijing said were based on "historical rights". China did not participate in the arbitration case and has refused to acknowledge the ruling.
Despite this, Beijing has continued to transform several features in the waters into islands capable of hosting military bases.
Defence Secretary Delfin Lorenzana recently admitted that Chinese planes from these man-made islands could reach and bomb the Philippine mainland in just 15 minutes.
North Korea meanwhile has continued to develop its missile and nuclear programme despite international sanctions and widespread condemnation.
Amid blood-curdling threats and rhetoric, it has recently shown off a missile capable of reaching the mainland USA.
Although the world economy has long experienced periods of high risk, what is unique now are the risks associated with the US questioning its role in the world while China is becoming more assertive, the EIU said.
"Global risk is not just about the two biggest economies; risks also transcend boundaries on the political, military and financial spheres," it added.
However, there has never been a period of such robust economic growth, low inflation and high employment amid such a sense of unease over global conditions, according to Philip Walker, risk practice director for the EIU.
He said that policymakers, companies and populations were facing a wide range of major threats that could upset the traditional global order in the coming years.
"It is important to assess and prepare for a likely tumultuous global environment in order not just to mitigate damage, but also take advantage of opportunities that will undoubtedly arise along the way," he said.