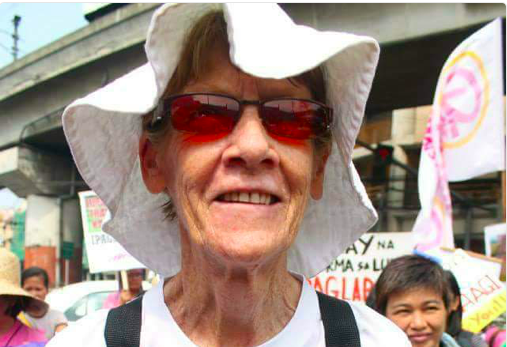 Sister Patricia Fox is appealing against the Bureau of Immigration's decision to refuse the renewal of her missionary visa.
The BI rejected Fox's missionary visa extension request last month, citing the deportation order previously issued against the Australian nun.
The 72-year-old is now required to have her visa downgraded to a 59-day temporary visitor's visa. The validity begins from the date of the expiry of her missionary visa, which was September 5.
In her appeal bid today (Monday, September 17), Sister Patricia's legal counsel said "the memorandum of agreement between Fox and the Catholic Bishops Conference of the Philippines did not preclude the extension or renewal of the missionary visa for another 10 years, contrary to the BI's recent ruling".
"As a matter of fact, her missionary visa had been repeatedly extended by the Honorable Office for several times, first, during the first 10-year period from 1990, the year she arrived in the country, then in the year 2000 or thereafter, for the second 10-year period, and later in 2014 for the third 10-year period," the six-page motion read.
The nun's camp noted that when the BI approved the conversion of Sister Patricia's tourist visa into a missionary visa on September 5, 2014, she was given a new or a fresh period of 10 years from then to stay in the country.
"Thus, the applicant is allowed to renew or extend her missionary visa until 2024 pursuant to the MOA that the Honorable Office has entered into with the CBCP," her lawyer pointed out.
Sister Fox also contested the ground that the BI issued a deportation order against her for violation of the conditions of her stay.
She said the deportation order against her is "not yet final executory as the same is under appeal with the Department of Justice. Hence, the decision to grant or deny the application for extension or renewal of her missionary visa should not be based and hinge on the order of deportation."
The nun was arrested on April 16 for allegedly joining politically rallies. She has worked in the Philippines for 27 years.
Follow our Facebook page for daily news updates
…