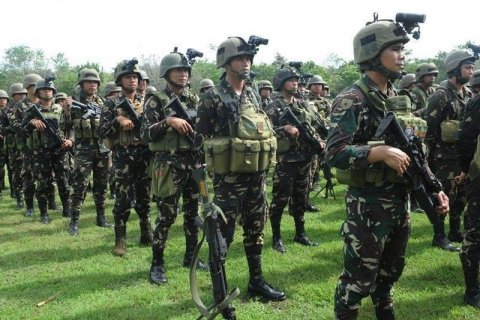 The military forces recovered about 700 kilograms of ammonium nitrate and an 81 MM mortar fuse bomb components allegedly owned by Abu Sayyaf Group (ASG) terrorist group in Brgy. Latih, Patikul, Sulu, Monday night.
According to the report, a resident informed the Army's 63rd Mechaniezed Company of 1st Brigade Com­bat Team (1BCT) that the bandits hid the explosives in an abandoned house at their barangay last Saturday.
After the Abu Sayyaf members left, some residents went to the nipa hut and discovered the group's bomb components.
Brig. Gen Leopoldo Imbang Jr, Commander of 1BCT, said that the ASG would frequently "preposition" explosives outside Metro Jolo. Then they would pick it up and deliver them to other ASG members to launch terrorist attacks.
Police Col. Pablo Labra, Sulu Provincial Police Office Director said forensic examinations showed bomb used in Jolo Cathedral terrorist attack on January 27, 2019, has ammo­nium nitrate signature. The explosion killed 20 civilians and injured 100 others.
The bomb used in an attack in Indanan, Sulu last June 28 also contained ammonium nitrate.
Suicide bombing in Sulu
A bomber died in another suicide bombing attack on a military detachment in Sulu, Sunday, September 8.
Military officials said that the militant tried to enter a detachment in Indanan town, Sulu province. The bomber failed and died when the bomb the militant was carrying exploded. As of today, the incident was already the third suicide attack in Sulu this year.
The military blamed the Abu Sayyaf group for the suicide attacks. The Abu Sayyaf Group (ASG) is an Islamic separatist organisation in the Philippines founded by Abdurajak Abubakar Janjalani in 1991. They were known for brutal, high-profile bombings, assassinations, kidnappings, and attacks.