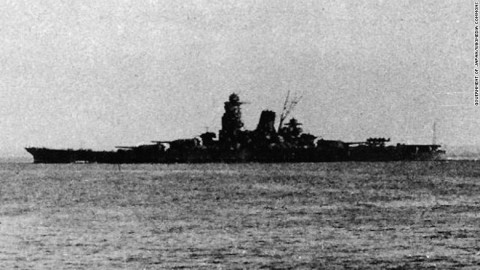 Paul Allen, Microsoft's co-founder, says he has found the wreckage of a long-lost World War Two Japanese battleship off the coast of the Philippines.
Mr Allen posted images on Twitter of what appears to be the illusive Musashi, one of the largest battleships of the war years. The discovery was made aboard his super-yacht, the MY Octopus.
It has taken more than eight years to find the ship – the images and a video were taken from a submersible.
"Since my youth, I have been fascinated with World War II history, inspired by my father's service in the US Army," he said.
"The Musashi is truly an engineering marvel and, as an engineer at heart, I have a deep appreciation for the technology and effort that went into its construction. I am honoured to play a part in finding this key vessel in naval history and honouring the memory of the incredible bravery of the men who served aboard her."
Allen used his twitter account to publicise the discovery – in one tweet he showed an image of the bow of the ship which features a distinctive chrysanthemum – the flower of Japan's Royal Family.
The director of Japan's Kure Maritime Museum said after viewing the information posted by Mr Allen that it appeared that the vessel was the Musashi, although further pictures were needed to know for sure.
The Musashi was one of two "Yamato" class battleships constructed by the Japanese imperial navy – at the time it was the largest class warship ever constructed, displacing some 69,000 tons. It was sunk off the Philippines by the US Navy in October 1944 with the loss of more than 1,000 crew members.
Mr Allen said his team had found the wreck in the Sibuyan Sea in central Philippines, at a depth of about 3,281 feet, or one kilometre.