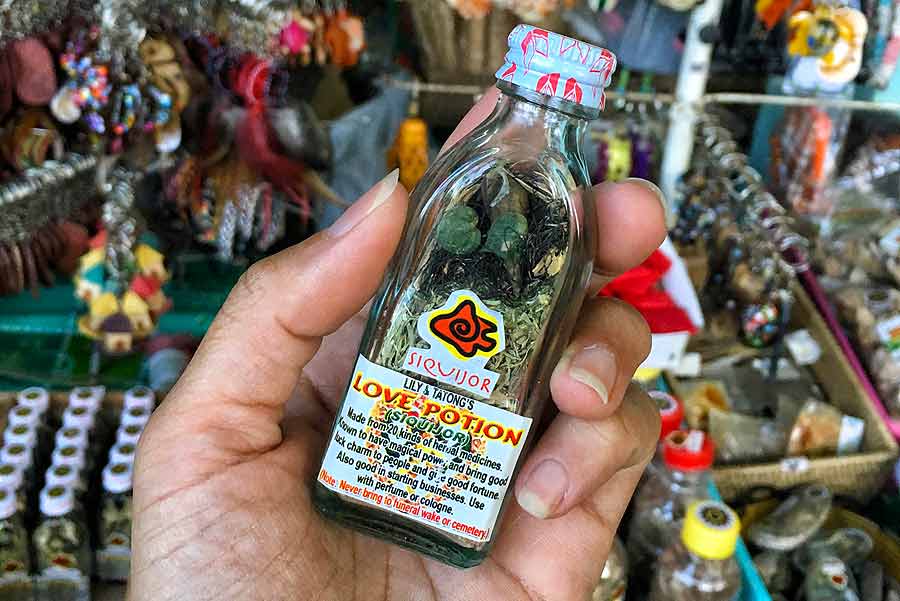 A self-described witch was arrested for extortion after she threatened a woman over payment for a love potion she had concocted.
Jhane Mendoza, aged 29, was arrested on Monday (July 30) a fast food store in Valenzuela City at about 3.20pm. 
Chief Superintendent Guillermo Eleazar said Mendoza would be charged for 'robbery extortion with intimidation' in relation to Article 316 (Other forms of Swindling) paragraph five of Revised Penal Code.
The arrest followed a complaint by 27-year-old Bernadette San Juan from Pasay City.
She told police that Mendoza had threatened to have her arrested for failing to pay 80,000 pesos as balance for witchcraft and potion-making services.
The victim explained how the story began when she posted a heart-broken message on Facebook saying she wanted to get back with her ex-boyfriend, who broke up with her in April.
Somehow, the suspect came to see the post, and contacted Bernadette to say that she had the answer she was looking for. 
Through a series of private messages, Bernadette agreed to pay Mendoza to a create a love potion and perform some magical rituals to lure her boyfriend back.
To the apparent astonishment of all concerned, these efforts failed.
Despite this, Bernadette was still expected to pay in full, and in just one month she handed over a total of 66,675.66 pesos.
However, this eye-watering sum was not enough. Last Saturday, Mendoza demanded another 80,000 pesos. Unless this was paid, she allegedly warned, she would have Bernadette arrested or kill her ex-boyfriend.
Cf. Supt. Eleazar said: "She was really in love so she kept taking the bait. Feeling helpless and threatened, and apparently sensing that everything is all for show, the complainant decided to seek assistance from Regional Special Operation Unit that resulted to the successful arrest of Mendoza."
Belief in the supernatural runs deep in the Philippines. Only yesterday, we reported how the residents of a Mindanao village blamed the mythical blood-sucking 'sigbin' for the death of 21 roosters.
Follow our Facebook page for daily news updates