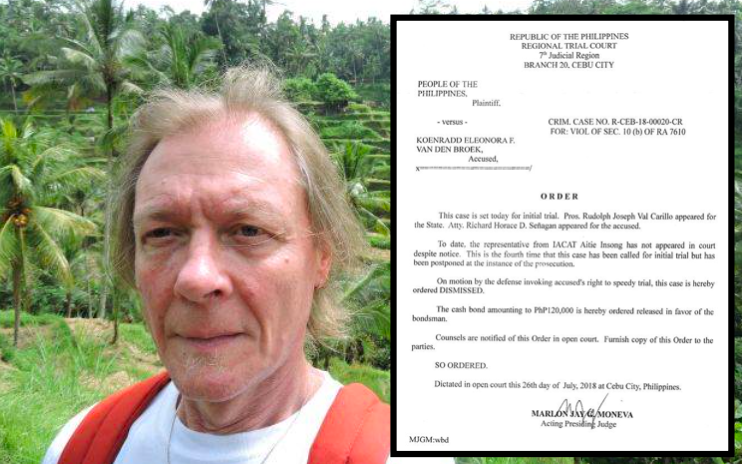 A Belgian man who was accused of trafficking and abusing children has seen the charges against him thrown out by a Cebu court.
Koen Van Den Broek was was arrested on suspicion of trafficking children at Cebu's South Bus Terminal last December 26. He was in the company of a 13-year-old girl, her nine-year-old brother, a three-year-old girl and her four-year-old brother and two aunts aged 18 and 19. 
The group were about to depart for a family vacation in Moalboal, and were due to be joined by a mother of some of the children en route.
His detention by police and personnel of the Inter-Agency Council Against Trafficking (IACAT) was despite the adults already in the group protesting his innocence.
Immediately after the arrest, other members of the family rushed to the police station to defend him, telling officers he had been a close friend for many years. They also contacted PLN, which published the sole media report to raise questions about the arrest.
Soon after, a trafficking accusation against him was dropped by a judge, only to be replaced by a charge under Republic Act 7610. By this law, the presence of minors in the company of an older, unrelated, person is considered prima facie evidence of trafficking and abuse.
Koen vowed to fight charges
Koen was able to pay bail of 120,000 pesos and leave the Philippines for Switzerland. Despite being safely beyond the reach of Philippine law, he vowed to fight the charges and clear his name.
Months of postponed court dates and wasted hearings attended by his attorney followed, before a judge finally dismissed his case last Thursday (July 26).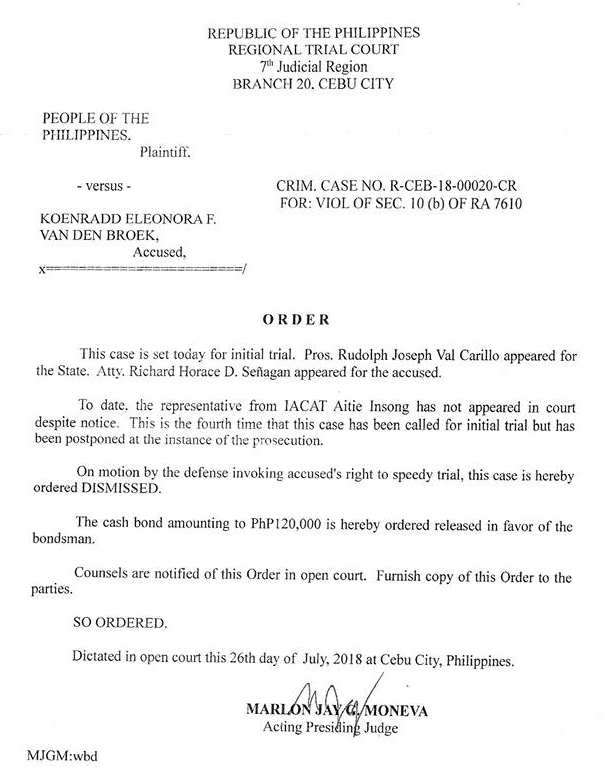 Speaking to PLN over the weekend, Koen said he had mixed feelings about the outcome. "Being happy is a difficult thing. The case is dismissed and that is not the same as being able to really prove my innocence.
"The reason for dismissal was because the woman from IACAT didn't show up on any of the court dates.
"The way this was dragged through the courts is ridiculous. They could see from the beginning that it was a mistake, so why did it take months?"
Asked about Republic Act 7610 he said: "It's so stupid to have to ask for official permission to go to public places like the beach or port or bus terminals with kids you have known for long time and try to give them some vacation."
'Something inside me is broke'
Although he was spared the horror of being jailed during his ordeal, he said it had nonetheless been traumatic. "Too many things happened since I was arrested. Some friends and family believed what they heard, and total strangers from all over the world wrote bad things to me in messenger.
"Something inside me is broke and I don't know if it can ever be healed again."
Asked whether he would return to the Philippines, he replied: "At the moment I don't really know what to say. It has already affected my ability and willingness to visit the Philippines." 
However, he said he would be heartbroken to lose contact with the family he had befriended. "From the very first moment I went there I started supporting the mother with the three young kids who were with me in the bus terminal — especially the youngest, Kolette, who is four now.
"I still want to go there as much as possible to see the little Kolette growing up. But the whole story around it now makes it so difficult."
He also said that when the allegations were first levelled at him, the domestic press seemed to take his guilt — being a 'foreign national' — for granted. 
"But now that I am proved innocent, nobody but you cares," he added.
Follow our Facebook page for daily news updates