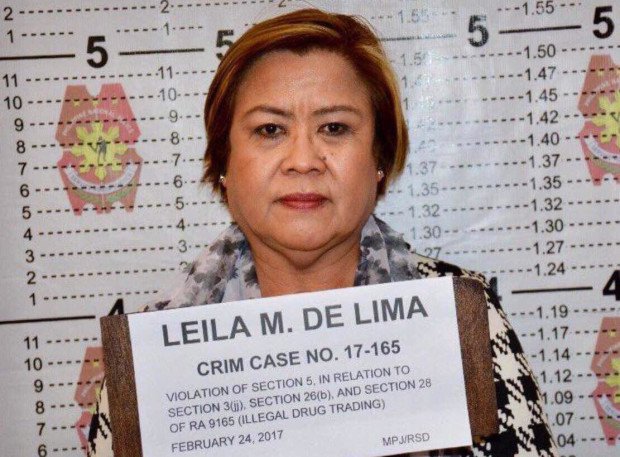 senator Leila De Lima has felt moved to confirm that she is alive and well in custody, despite reports alleging that she had attempted suicide.
"To paraphrase Mark Twain, fake news about my supposed attempted suicide have been greatly exaggerated," she said.
The false reports were carried on two websites with identical layouts, masquerading as news organisations.
The first is from meganews360.com: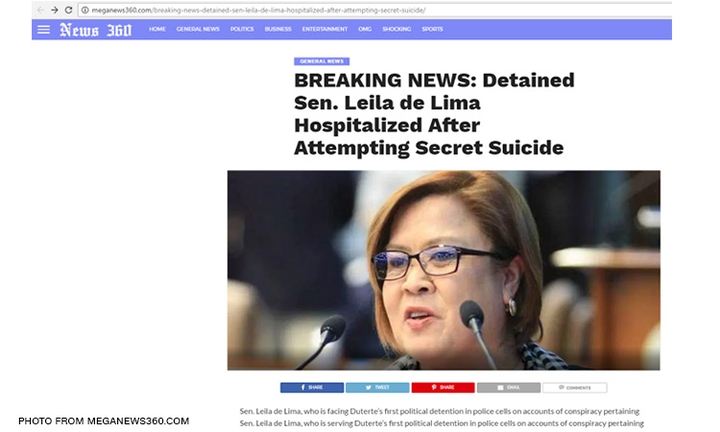 And the other is from abs.cbn-tv.com, which is clearly attempting to imitate ABS-CBN News: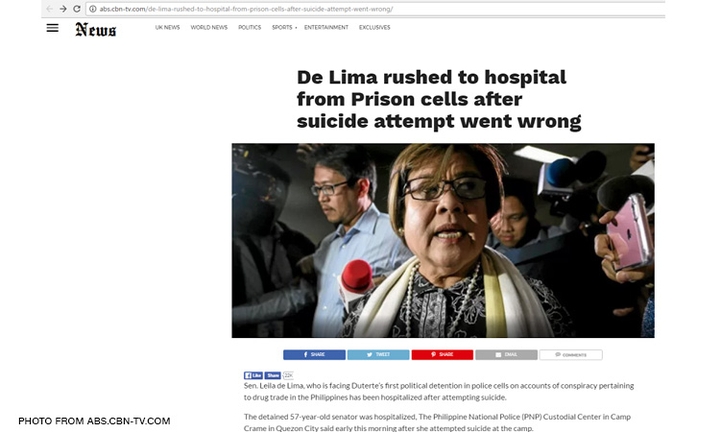 The second of these sites also contains an invented story alleging that Vice President Leni Robredo had pledged to stage a "naked protest" over De Lima's detention.
De Lima — who was arrested last month for alleged involvement in the drug trade — believes the fake news stories were being pedalled by supporters of the president.
(Read more here, here and here)
She said: "These fake 'alternative fact' news are making the rounds and being encouraged by Duterte's lapdogs, such as Speaker Alvarez, in order to condition the minds of the people that the worst can happen to me while in detention at the PNP Custodial Center, without any fault of the Duterte regime because I supposedly already lost my mind after my arrest."
Alvarez recently said that De Lima should be detained at a mental hospital rather than a prison.
Senator De Lima says that because of the fake news items, she she doesn't feel safe in custody, citing the cases of slain Davao City broadcaster Jun Pala and the late Albuera, Leyte Mayor Rolando espinosa. "Given the capacity of this president for assassinating his political opponents as revealed by none other than his Davao Death Squad right-hand man, retired SPO3 Arturo Lascañas, I definitely do not feel secure and safe inside Duterte's prisons," she said.
As we have reported (here and here) Lascañas has claimed to be a leader of the Davao Death Squad, which allegedly carried out hits on the order of then Davao City Mayor Mr Duterte.
"If I die inside Duterte's prisons it is not because I committed suicide, but it is because the president has finally ordered me killed. In the unfortunate event that I die in prison, you all know who my murderer is," she added.
"I have never been more determined to continue the fight against this murderous, incompetent, and corrupt regime, and I continue to look forward to the day when the barbarity and tyranny of this regime no longer reigns over our nation, and I am finally freed from prison," she said.