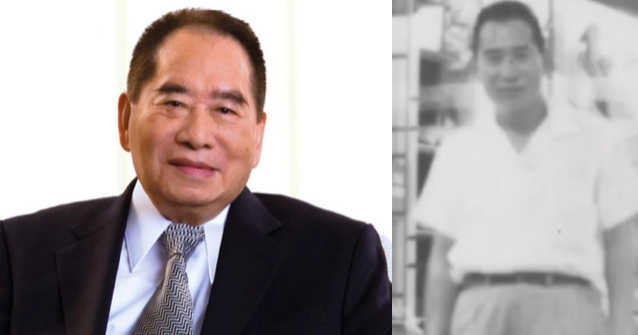 Henry Sy, the richest man in the Philippines — who built his $19 billion fortune from a single shoe shop — has died aged 94.
Henry Sy was is the founder of SM Investments, a mega-conglomerate with interests ranging from shopping malls to banking. It was valued at 1.15 trillion pesos — $21.82 billion — at yesterday's close of market.
According to a statement from the company, he died peacefully in his sleep this morning (Saturday, January 19).
Henry's parents migrated to the Philippines from China's Fujian province when he was a child. The family worked together to run a small shop, where Henry would sleep on the counter at night. 
Later, after the second world war, he started selling shoes and opened his first ShoeMart shop in Manila in 1958.
In the 1970s, he transformed the business into a department store and in the early 1980s built the country's first modern shopping mall.
Helped by his six children, the business grew and grew into the conglomerate it is today. In fact, it is so significant that investors often gauge the health of the wider Philippine economy according to its fortunes.
SM's major subsidiaries include SM Prime Holdings, the country's biggest real estate and shopping centre developer; BDO Unibank, the nation's largest bank by assets, and SM Retail. The company also has seven shopping centres in mainland China.
Interviewed by the Philippine Star in 2006, Henry said he had wanted to be a businessman since childhood. "No other ambitions, I just wanted to be in business, even when I was a child in Fujian province, south China," he said.
Henry's children currently occupy executive and advisory positions in various SM subsidiaries, while his wife, Felicidad, oversees the company's charitable activities.
Henry officially retired from SM in 2017 and became chairman emeritus. SM appointed Henry's longtime associate Jose Sio as chairman and former investment banker, Frederick DyBuncio, as president.
The Malacañang has expressed condolences to Henry's family. "Mr Sy was a visionary and a pillar of the Philippine economy who believed in the potentials and opportunities of the country, and pursued them with dedication, passion, and hard work till their fruition," presidential spokesman Salvador Panelo said today.
"The landscapes of major cities in the Philippines seem unadorned and incomplete minus the imposing architectural delight. He made 'malling' a delightful experience as part of the urban living in the Philippines where Filipino families and the ordinary folks bond, promenade, and create wondrous and memorable moments."
The Sy family have expressed thanks for the widespread condolences. "We are truly grateful for the outpouring of sympathy on the passing of our father, Henry Sy. May we respectfully ask for privacy today to give the family time to reflect and to finalise arrangements," they said in a statement.
Follow our Facebook page for daily news updates
…