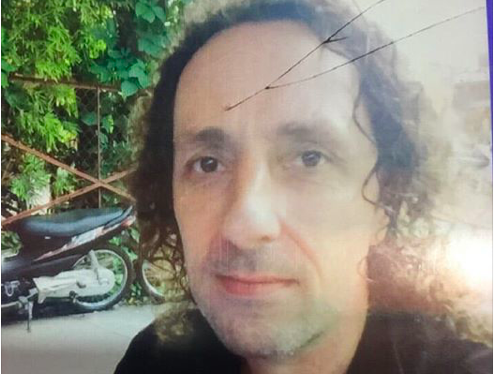 It has now been confirmed that the British expat who set fire to a Vietnamese woman in a jealous rage has fled to the Philippines.
The suspect, now identified as Gary Aredale [Ed: Or possibly 'Iredale' – which is a fairly common name in Lancashire], is believed to be in Angeles City after the vile attack in Hanoi.
Alan Nicholls, whose wife and child were in the victim's shop amid the horror, helped police to identify Aredale on airport CCTV. He has been able to confirm that Aredale travelled from Hanoi to the Philippines, via Thailand, after the attack on Monday.
PLN has been in contact with Benjamin Evans, a neighbour of Aredale. Here is his personal account of events surrounding the atrocity: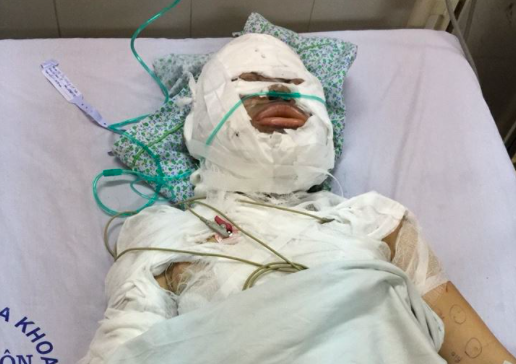 Me and my girlfriend (both from Liverpool) live two floors below Gary in a communal apartment block in a quiet suburb in Hanoi. We've known Gary for 18 months since we moved in, he was, in my opinion a normal guy, lived alone, partner in a vending machine business, gym enthusiast, nothing really out of the ordinary.
He was never short of partners over the time i knew him, all local Vietnamese women, and seemed a popular guy with his peers.
Over the past few months he's had family troubles at home with aging parents and regularly goes home to see them, usually a few weeks at a time.
On Sunday morning (January 14), both myself and my partner heard Gary shouting at Vietnamese girl, ushering her out of the building… "f**k off, get the f**k out, f**king slut"… you get the idea.
Just another ex-pat splitting up with a recent crush. I was sure I'd catch up with him at some point and find out what was going on, usually in the gym, where I'd see him a few days a week. We'd probably talk and put the world to rights.
On Sunday night, both me and my partner finished teaching around 9pm and were both home and settled by 10pm. That's when the incredibly loud 90s techno music started… and carried on till 8am the next morning!
This was completely out of character for Gary, we never heard him play any music the whole time we've lived at the same place, both me and my partner agreed not to say anything, as he's probably dealing with whatever issues are going through his head and having a bit of a blow out.
The following morning (Monday), we watched Gary from our balcony chasing a stray dog, shouting all sorts of obscenities at the dog. This led him to arguing with an elderly Vietnamese gentleman, who had absolutely no idea what the hell was going on! Our first thought were he's out of his mind! Probably drugs! Lets avoid any contact with him today!
Monday afternoon is when the incident happened, which we didn't find out about until Tuesday. Although we knew something serious had happened involving Gary later on that evening.
My partner left for work at 5pm and bumped into Gary in the communal area where we park our motorbikes. She said nothing was out of ordinary, a few conversational pleasantries and she drove off to work. He also was leaving the apartment block. (We now know that he had already committed this awful crime and must have come back to his apartment and grab his passport, money, etc).
When my partner arrived home from work at 8pm she was greeted by a Vietnamese policeman, waving Gary's picture on his phone: "Do you know this man?" My girlfriend was then surrounded by 15-20 men wanting to gain access to our apartment block. She stood her ground… shes a feisty Scouser [somebody from Liverpool], nobody's getting in here on her watch! But she took the uniformed policeman and one other guy up to Gary's and was asked to be a witness in case anything happened. Gary was already gone.
That evening around midnight, my landlady came to our apartment, she looked at her wit's end, needing new copies of our passports, visas, etc. At that point we still had no idea what the hell was going on, but knew it couldn't be good.
The next morning (Tuesday), Gary's apartment was crawling with police, immigration, you name it, they were there.
It was Tuesday afternoon we found out what happened. A great friend of mine Luke, called me up to tell me. His dad Alan Nicholls had witnessed it, and his wife and daughter were present when Gary came into the victim's shop, wearing a face mask and proceeded to throw petrol over her and the rest of the shop and setting her on fire.
Shock.
I made a few calls to find out what was going on, I know people (ex-pats) who live on the same street, and I found out another friend of mine was with Gary on Sunday night! He confirmed that Gary had taken a cocktail of MD, MA and LSD, along with whatever he was drinking. He confirmed he was upset about the Vietnamese girl not wanting to continue meeting him and the problems he had at home with his parents.
Alan Nicholls identified Gary on the CCTV at Noi Bai airport with the police and that's how they know he took a flight to Bangkok and then on to the Philippines .
And, that's all I know!
I hope this helps in finding him, this is the most shocking thing I've ever heard, it certainly has rocked the local community to its core.
The victim, who is a mother, is suffering from third degree burns to 60% of her body.