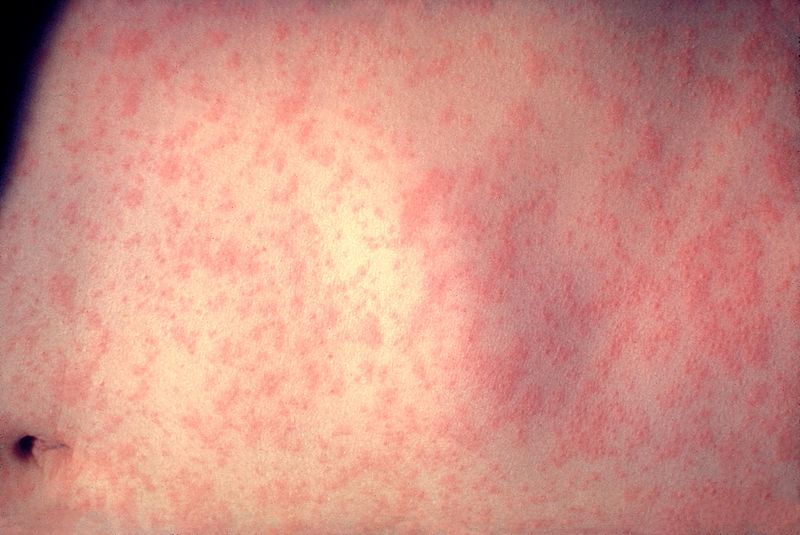 At least 70 people — mostly children under the age of five — have died from measles in the Philippines so far this year.
The death toll from January 1 to February 9 more than doubled compared to the same period last year, the Department of Health said today (Monday, February 11).
A total of 4,302 cases of measles have been reported throughout the country, a departmental statement added.
A total of 34 per cent of the patients were between the ages of one and four, while 27 per cent were less than nine months old.
"Of the total deaths, ages ranged from one month to 31 years old," the department said. "Notably, 79 per cent of those who died had no history of vaccination."
The department earlier declared an outbreak of measles in Manila, where 18 deaths have been recorded, as well as the Calabarzon region south of the capital, where 25 deaths have been documented.
Health Secretary Francisco Duque has blamed the increase on low vaccination rates among children following the scare triggered by a programme to immunise children against dengue fever in 2017.
This focused on the Dengvaxia vaccine created by French firm Sanofi Pasteur. The company later disclosed that the medicine posed risks to children who had not been previously infected by dengue prior to immunisation.
The health secretary has urged the public to restore their faith in vaccines. He said that they had long been proven to provide crucial protection from diseases such as measles.
"I am quite sure that all of us sometime in our lives have been recipients of these vaccines which had protected us from various diseases," he said.
Measles is a highly contagious respiratory disease caused by a virus that is transferred from person-to-person by sneezing, coughing, and close personal contact. Symptoms include cough, runny nose, conjunctivitis, fever and skin rashes.
Measles cases and deaths per region, based on the DOH's latest data:
Metro Manila – 1,296 cases, 18 deaths
Calabarzon – 1,086 cases, 25 deaths
Central Luzon – 481 cases, 3 deaths
Western Visayas – 212 cases, 4 deaths
Northern Mindanao – 189 cases, 2 deaths
Eastern Visayas – 166 cases, 7 deaths
Mimaropa – 131 cases, 1 death
Central Visayas – 109 cases, 2 deaths
Bicol – 44 cases, 1 death
Follow our Facebook page for daily news updates
…