Presidential spokesperson Salvador Panelo said on Wednesday that President Rodrigo Duterte would undergo a checkup today because of the "unbearable pain" which cut short his Japan trip.
Panelo also said Duterte would give updates on his condition once he finished consulting his doctor.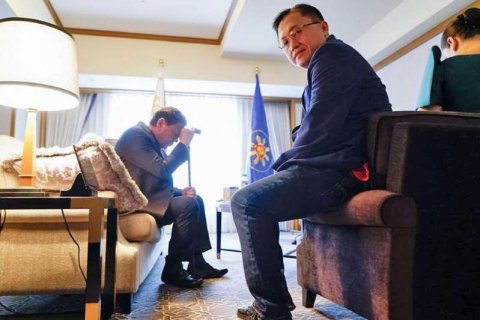 "His consultation with a doctor is aimed at determining the medical condition of his body, as well as finding out whether his previous spinal injury from a past motorcycle accident has been aggravated by his recent fall," Panelo said.
"The President shall inform our countrymen on the result of his medical consultation," Panelo added.
The 74-year-old Duterte had to cut short his Japan visit due to an "unbearable pain" in his spinal column on Tuesday.
Duterte attended the enthronement ceremony for Japan's Emperor Naruhito in Tokyo, Tuesday afternoon. Panelo said the president used a cane to "to assist him in his walk."
As a result, Duterte missed the Emperor's banquet last night at the Imperial Palace. The President, however, asked his daughter Davao City Mayor Sara Duterte to represent him and attend on his behalf.
Last week, Senator Bong Go confirmed that the President had a minor motorcycle accident while driving inside the Malacañang complex. Duterte got slight scratches and light bruises from the crash.
In 2017, Duterte also suffered from back pains because of an earlier motorcycle accident.
Also this month, Duterte admits he has myasthenia gravis, a rare muscle disease during his visit to Russia. Because of the condition, Duterte said his eyelids dropped, and his muscles weakened.
Duterte also has Buerger's Disease, a rare disease wherein blood vessels become inflamed, swell, and can become blocked with blood clots (thrombi), according to Mayo Clinic.
Despite all the President's illnesses, Panelo said the public should not be "apprehensive."