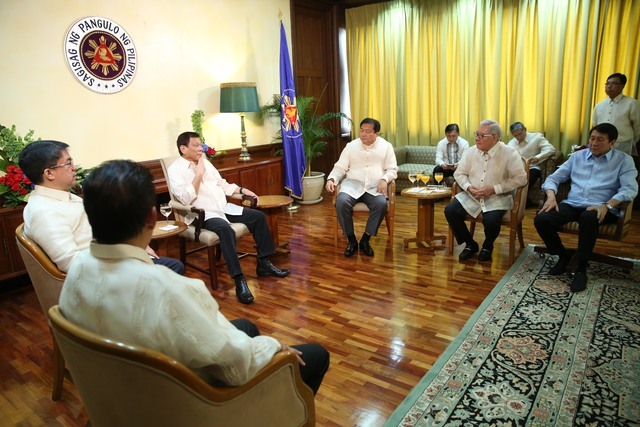 At a hastily convened "urgent" meeting at the Malacañang, President Duterte warned lawmakers of three new terror plots in Mindanao.
The warnings were revealed by Senate Majority Leader Vicente Sotto III, who said: "They have discovered new plans of terrorists in other areas in Mindanao. He wants us posted on developments. The way I understood it, there are three areas under threat."
Senate Minority Leader Franklin Drilon said the president's warning yesterday "appeared to be serious".
"He briefed us on intelligence information of new threats posed by IS in the south and he is looking for closer regional cooperation with neighbouring countries, particularly Indonesia," he said today (Wednesday, August 2).
Drilon said the President, citing Defence Secretary Delfin Lorenzana, requested additional deployment of 20,000 soldiers to the southern island.
"He informed us of that renewed threat because the secretary of defence has requested additional manpower, and, therefore, that would require budgetary allocation," he added.
In the proposed budget for 2018, the Department of National Defence has already been allocated an increase of 5.5 per cent to 145 billion pesos.
The president placed the whole of Mindanao under martial law after members of the IS-affiliated militants went on the rampage in Marawi City on May 23. The crisis continues, although yesterday Lorenzana said that no more than 40 terrorists were continuing to hold out in the centre of the country's largest Muslim-majority city.
Smuggled shabu also on agenda
Aside from Sotto and Drilon, other senators present at the three-hour meeting were Senate President Aquilino Pimentel III, Senators Richard Gordon, Juan Edgardo Angara, Gregorio Honasan, Francis Escudero and Panfilo Lacson. House Speaker Pantaleon Alvarez and Majority Leader Rodolfo Fariñas were also there.
Aside from the terror threat on Mindanao, it is reported that they also discussed the controversy engulfing the Bureau of Customs (BOC) over shabu smuggled from China, the tax reform bill and proposals to further postpone barangay elections due in October.
The president told lawmakers that he wanted to wait for the findings of House and Senate investigations into the 6.4 billion pesos of smuggled shabu before deciding how to proceed.
Senators have criticised Customs Commissioner Nicanor Faeldon following the controversy, but the president yesterday expressed his "full confidence" in Faeldon.



On the tax reform and barangay election bills, Sotto said the president told them that they had "elbow room" on the issues, and urged lawmakers to coordinate with executive officials.
This is in contrast with the president's statement in his recent State of the Nation Address, in which he told senators that he wanted them to pass his version of the tax reform bill in its entirety.