The United Nations human rights commission has urged the Philippines to launch a murder investigation after President Duterte claimed he killed suspects while mayor of Davao.
Since his presidency began in July, 6,000 people have been killed in his war on drugs. About a third of these died during police operations, with the rest falling victim to unidentified "vigilante" gunmen.
As we previously reported (here) the president told a gathering of businessmen last week that while mayor of Davao he had killed suspects himself. "In Davao I used to do it personally," he said during a speech at the Malacañang palace. "Just to show the guys (police) that if I can do it, why can't you?
"And I'd go around in Davao with a motorcycle, with a big bike around, and I would just patrol the streets, looking for trouble also. I was really looking for a confrontation so I could kill."
Days later, while speaking to a BBC reporter, he admitted to shooting three suspected kidnappers in the late 1980s. "I killed about three of them," he said. "I don't know how many bullets from my gun went inside their bodies. It happened and I cannot lie about it."
Killings: "Clearly constitute murder"
These apparent admissions by the president have prompted a stern response from the UN.
Zeid Ra'ad Al Hussein, High Commissioner for Human Rights, said: "The killings committed by Mr Duterte, by his own admission, at a time when he was a mayor, clearly constitute murder.
"As a government official, if he encouraged others to follow his example, he may also have committed incitement to violence.
"It should be unthinkable for any functioning judicial system not to launch investigative and judicial proceedings when someone has openly admitted being a killer.
"The Philippine judicial authorities must demonstrate their commitment to upholding the law and their independence from the executive by launching a murder investigation.
"The killing described by President Duterte also violates international law, including the right to life, freedom from violence and force, due process and fair trial, equal protection before the law and innocence until proven guilty."
He also expressed concern over the apparent lack of any judicial action over the thousands of killings blamed on vigilantes.
"Credible and independent investigation must be urgently re-opened into the killings in Davao, as well as into the shocking number of killings that have occurred across the country since Duterte became president," he said.
The High Commissioner also backed the UN's Special Rapporteur on summary executions Agnes Callamard, who has called on the Philippine government to lift a series of preconditions imposed on her planned visit to investigate the current spate of killings.
We have also reported how the new Philippine ambassador to the UN Teddy Locsin Jnr has made an apparent U-turn over his support for the president's anti-drug policies. David Bramovich discusses his change of heart here.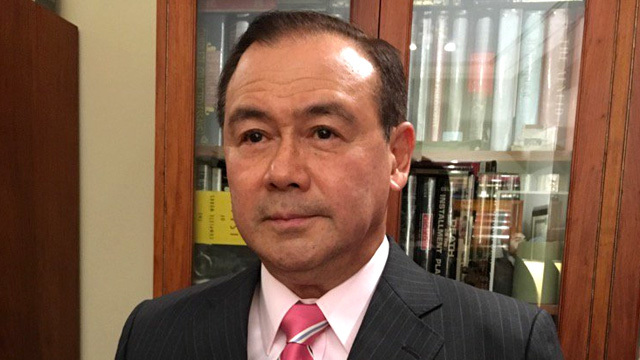 Nothing but "tough talk"
Supporters of Mr Duterte say he is immune from any lawsuit while president and can't be investigated for previous actions. "In fact, then Justice Secretary Leila de Lima had investigated such cases and came up with no actionable offences," said Congressman Rodolfo Farinas. "The president could only be impeached by acts or omissions committed as president."
Other allies say the president's words shouldn't be taken literally. His spokesman Martin Andanar said it was simply "tough talk" intended to send a clear message to criminals. "That is the style of the president, ever since he was a mayor he would talk that way."
The president's actions also enjoy wide support among the public, despite eight out of ten Filipinos expressing fears that they, or somebody close to them, could become a victim of the war on drugs.
Social Weather Stations, an independent pollster, asked 1,500 Filipinos if they were concerned about falling victim to an extra-judicial killing, and 78 percent said they were either "very worried" or "somewhat worried".
However, the overwhelming majority of respondents continued to support the policy, and 88% said it had led to a reduction of drug use in their community.
Despite this widespread domestic support, foreign governments continue to be critical of the war on drugs. The Millennium Challenge Corp, a US-led aid agency, has deferred any decision on millions of dollars of grants due to concerns over the killings. (Read Dave Bramovich's comments on the issue here).
In response, Mr Duterte has threatened to terminate the Visiting Forces Arrangement (by which American troops can be stationed in the Philippines) and on Monday the new US Ambassador Sung Kim was forced to sit stoney-faced as the president ranted against his country. "Go home, I do not need your aid," the president said. "Shut up. I do not need your assistance." (Read more from Dave Bramovich here).
Opposition to the killings has also led American singer-songwriter James Taylor to cancel his planned Manila concert in February. "I don't think of my music as being particularly political but sometimes one is called upon to make a political stand," he said.
"I'm not an addict"
In another twist to the controversy this week, Mr Duterte has denied that he himself was a drug addict, despite admitting over-using the powerful pain killer Fentanyl for migraines and spinal troubles. "I'm not an addict," he said. "Only when it is prescribed. Addiction is only with regularity, my friend."
His spokesman Mr Andanar also dismissed claims that the president was suffering from the side effects of Fentanyl, which can cause confusion, anxiety and even hallucinations. "Mr Duterte is healthy," he said. "We've seen him work till the wee hours of the morning. He is in a hurry — very impatient, because our country has been dragged down to the toilet."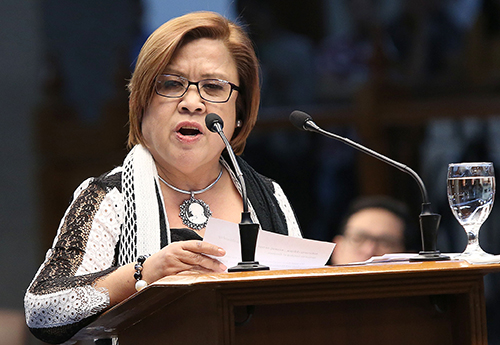 However, opposition senator Leila de Lima — who Mr Duterte has denounced as being a "narco-politician" believes drug misuse is affecting the president's decision-making capacity. "At least I, whom he recklessly and wrongly accuses as a narco-politician, haven't taken a single addictive drug in my life, while he who runs amok and froths in the mouth like a rabid animal has the temerity to make up a list, when he should be on the top of that list," she said.
"Duterte should stop taking Fentanyl because obviously it has already driven him to madness and to fits of paranoia where everyone he sees is either a drug addict or a drug lord. This is already all so hilarious if not for its murderous effect with the whole PNP and vigilante squads following his command to kill, kill, kill."