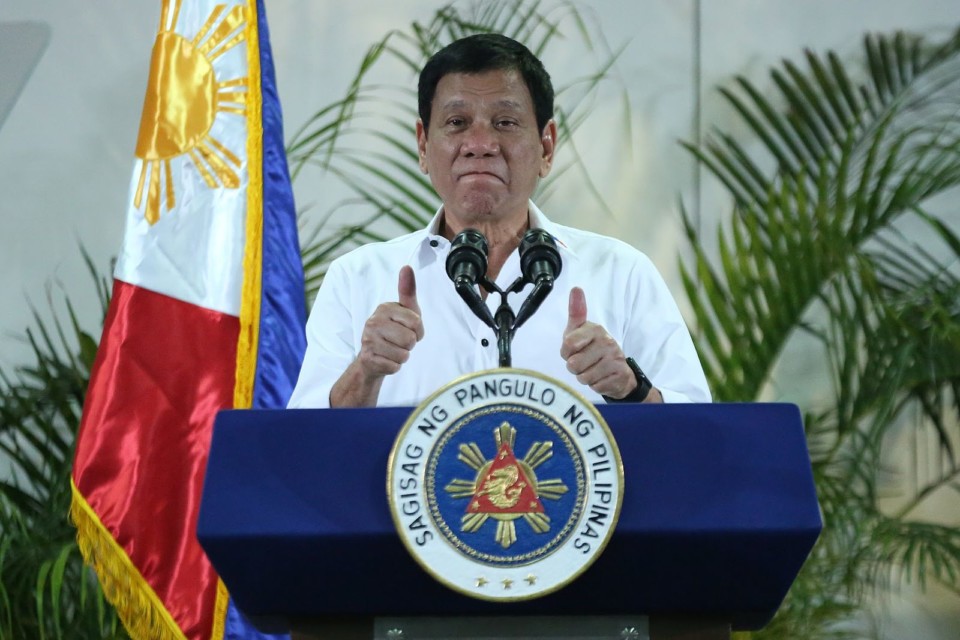 President Duterte's satisfaction rating rose in March, matching his personal high last recorded in June 2017, a nationwide survey has found.
The results of the recent Social Weather Stations (SWS) survey released today (Wednesday, April 10) found that 79 per cent of Filipinos were satisfied with the president's performance in the first quarter of this year. Thirteen per cent said they were dissatisfied while eight per cent were undecided.
This brings the president's net satisfaction rating to +66 or equivalent to a "very good" mark.
The rating is also six points higher than the +60 grade he received last December, which, in turn was higher than the previous quarterly survey.
The survey questioned 1,440 adults from Luzon, Metro manila, Visayas and Mindanao. SWS said the president's net satisfaction rating increased in all of these regions.
Satisfaction rating jumps in Mindanao
However, in Mindanao — the president's home province — he hit a new record-high of +88, a substantial jump from the +73 recorded last December.
It also remained very good in Visayas (+69), Luzon (+56), and Metro Manila (+61).
In rural areas, the president's net rating remained very good, with a new record-high mark of +69. It also remained strong in urban areas at +62.
The president's satisfaction rating was also up across all socioeconomic classes, from the poor to the rich. The net rating rose by seven points to reach a new record-highs of +69 among respondents from ABC classes and +68 in class D.
The satisfaction of men and women also remained very good at +68 and +65, respectively.
The president also scored highly among the young, with his highest satisfaction rating of +70 from those aged 18 to 24 and 35 to 44.
Likewise, his rating was excellent among college graduates and non-elementary school graduates at +74 and +71, respectively. High school graduates, meanwhile, gave Duterte a rating of +67 while elementary graduates gave him a +60.
Follow our Facebook page for daily news updates
…