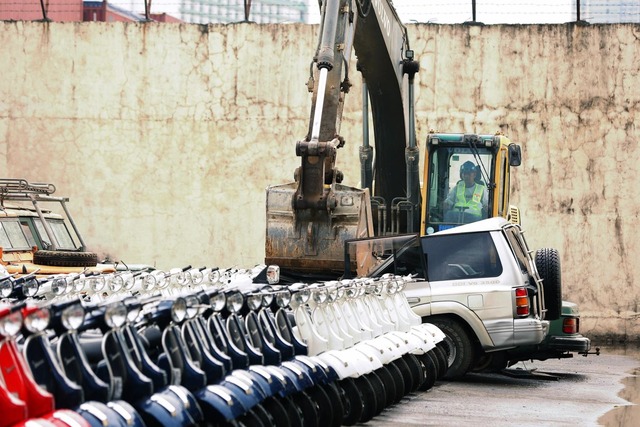 President Duterte expressed regret that a Harley Davidson was among 122 smuggled motorbikes and other vehicles crushed today.
The president, a well-known motorcycle enthusiast, admitted that he too was "crushed" when he saw the classic American bike — worth more than $15,000 — being reduced to scrap metal by a bulldozer.
The vehicles were destroyed by a bulldozer during a ceremony at the Bureau of Customs headquarters in Manila today (Wednesday, May 30).
After watching the destruction, the president said: "When the bulldozer's teeth fell on the Harvey, I felt like being hit on my back too. Ouch. I regret it." 
The president told his audience about his own Harley Davidson. "My Harley, well I bought it when I was mayor, that would be something like 1987. It's an old… I'm really fond of motorbikes," he said.
The former Davao City mayor also said some friends of his had offered to buy him a new motorbike but he had declined their offer.
"You know, friends would just say that they can buy it. I said, 'If I allow you, I'll have to grant others too'," he said.
As well as the Harley Davidson, the president witnessed the destruction of 112 new Vespa scooters, one used BMW motorcycle, two Triumph motorcycles, a Mitsubishi Pajero, two Land Rovers and Volvo car at the customs port. The vehicles had an estimated value of 34.7 million pesos.
As we have previously reported, the president has ordered the destruction of smuggled cars instead of putting them up for auction. He said the move was intended to send a strong message to car owners who do not pay correct import duties.