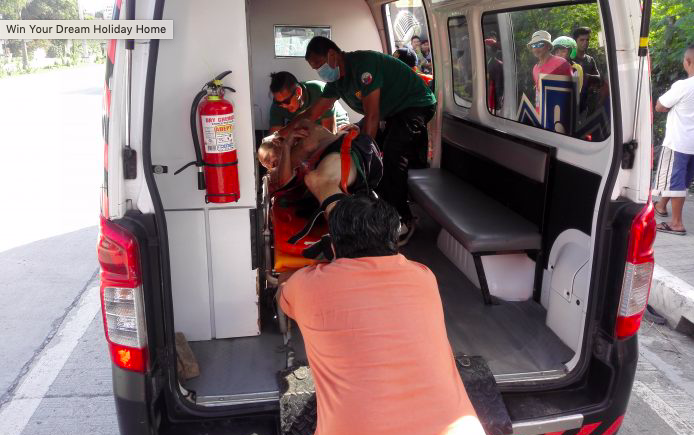 A Danish man disembowelled himself with a kitchen knife following a row with his Filipina girlfriend at his rental home in Pavia, Iloilo.
Arne Erhard Johansen, aged 70, is now being treated at the Iloilo Mission Hospital after partially disembowelling himself yesterday (Saturday, November 24).
His live-in partner called the emergency services after Johansen locked himself in his bedroom just after 2pm.
According to investigating officers at Pavia police station, the apparent attempt to take his own life was prompted by frustration over a cancelled trip. However, investigations are continuing and other lines of enquiry are being pursued.
Chief Inspector Fernand Limbungan, municipal police chief, said: "We are still investigating what the motive was. It seems the Danish national was frustrated over the cancellation of some travel plan."
Disembowelled with kitchen knife
He added that Mr Johansen used a kitchen knife which was about 12 inches long from handle to tip.
Asked by Panay News to describe the severity of the wound, Cf. Insp Limbungan said it was as though the Dane had been disemboweled.
His drastic action followed a fight with his live-in partner Vangielyn Calumag, 40. According to the most recent of her numerous Facebook pages, Ms Calamug describes herself as a native of Iloilo who is a self-employed dressmaker currently living in Angeles City.
Cf. Insp. Limbungan added: "They had an argument before he entered his bedroom and locked the door. She was unable to open it while he was cutting himself."
After Ms Calumag called for help, local police officers, firefighters and the emergency response team of the local government attended the scene.
Between them, they barged open the bedroom door and found the Mr Johansen partially disembowelled and bleeding profusely.
It has not been confirmed whether his injuries are life-threatening.
Follow our Facebook page for daily news updates
…