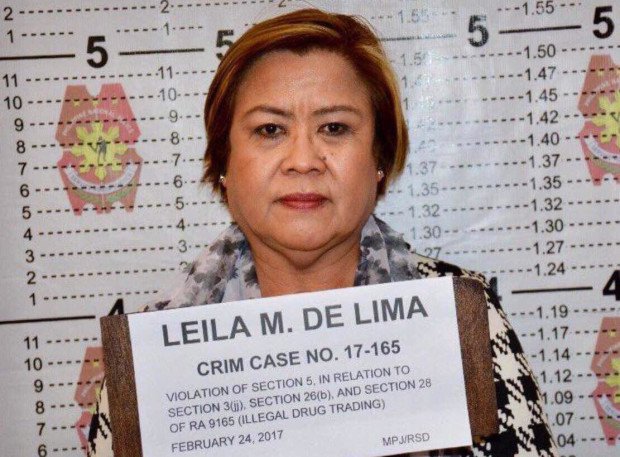 Jailed senator Leila de Lima has issued a defiant broadside against President Duterte and his allies.
De Lima, who was arrested for drugs charges dating back to her tenure as Justice Secretary, denies any wrongdoing and claims the charges against her are politically motivated.
While in government, De Lima led inquiries into links between Mr Duterte, then mayor of Davao, and the infamous Davao Death Squad.
Such accusations are again in the spotlight, with the recent testament of self-confessed death squad leader Arthur Lascañas, who claimed at a press conference this week that he had killed his own brothers on the orders of Mr Duterte.
Senator De Lima claims that her dogged pursuit of Mr Duterte has led to her politically motivated arrest. The case against her is that she accepted cash from imprisoned drug lords in exchange for her protection.
The senator, now behind bars at national police headquarters at Camp Crame, has now vowed to continue her fight to expose the president's alleged wrongdoing while also clearing her name.
Here is her full statement:
What we have feared has come. My arrest is an appalling sign of the return of a power-hungry, morally bankrupt and abusive government.
As we expected, the Department of Justice filed criminal cases against me based on manufactured stories accusing me of involvement in the drug trade.
According to the mastermind of the filing of cases against me – none other than President Rodrigo Duterte: "She has to face the music. It took months to develop the case."
They really have such nerve, all of them! Of course it would take you this long to manufacture lies against me! There must be so much Fentanyl in Mr Duterte's brain, for him to have the gall to boast of the testimonies of their witnesses who are convicted drug lords, and whose statements contradict each other.
Liars! Hypocrites!
As reward for testifying against me, this administration, through the Department of Justice, restored the privileges of these inmates – the very same privileges that I put an end to during my term as the Secretary of Justice.
Their revolting plan: convicted criminals become state witnesses so they can be exonerated from their crimes. They are not the heroes that this administration is forcing us to believe.
Where else in the world have you seen drug lords turned into state witnesses? All they have ever done is to follow the badly-written script of this administration to pin me down with baseless accusations for their personal gain.
From the very beginning, we have seen the brand of injustice his regime is pushing for. As they continue to malign and persecute me, meanwhile, Mr Vitaliano Aguirre of the DOJ coddled prisoners in exchange for their testimonies, and Solicitor General Jose Calida sought the acquittal of the convicted kidnapper and indicted mastermind of pork barrel scandal Janet Lim Napoles.
From the very beginning, I knew that this regime would not seek true justice. The filing of criminal cases against me is only the fulfilment of Mr Duterte's fixation for revenge against me, because of my investigation of the Davao Death Squad when I was then the Chairperson of the Commission on Human Rights.
The Filipino people know your style, Mr President. To put the rule of law in your hands, silence your critics, and destroy those who will go against your caprices.
Actually, this should no longer surprise us. If the President supported a policy of killing the poor and drug offenders, what is then stopping him from doing whatever comes into his head: absolve big time drug lords, acquit a kidnapper and queen of pork barrel scandal, fabricate stories and plant evidence against his critics, which he admitted he used to do when he was a fiscal, and continue killing the poor with impunity.
We all know now that every action of the President has no clear basis. He does it on a whim. Not because it is right or wrong, but because he can do it, and we are letting him. This is impunity. Whatever he does, he is confident that he is free from any punishment.
This all started when he discovered as Mayor of Davao City that he could kill people without accountability. Truth is, even though he has killed over 1,000 in Davao and over 7,000 throughout the Philippines with his death squads and rogue police, he has yet to pay for it under the law.
But perhaps now he can be made accountable for his horrible crime against humanity.
Recently, the President's right-hand man in the Davao Death Squad, police officer Arturo Lascañas, finally revealed himself. Just like his former comrade, Edgar Matobato, he too made a public confession about the killings they carried out in Davao City upon the orders of President Duterte himself. He, together with police officer Sanson "Sonny" Buenaventura, are the brains and hands of President Duterte in any of the Davao Death Squad operations.
With the revelation of Lascañas, there is no more doubt that our President is a murderer and a sociopathic serial killer.
This is also the reason why we are experiencing all the madness in government under this regime that is being led by the number one criminal in the entire Philippines, if not in the whole world, none other than President Rodrigo Roa Duterte.
Let's not ask anymore how come there seems to be a reunion of questionable characters under the Duterte regime — from the Marcoses, to Arroyo, and up to Napoles, together with their lawyers and operators. Also, there are the main enforcers of President Duterte's orders—Secretary Aguirre and SolGen Calida who are among the abusive and arrogant officials in our government. Let's no longer ask why, during the Duterte regime, all the criminals, the corrupt, the savages, and those with evil souls have returned and are thriving.
I speak before you with honour and integrity as my only defence. As former Human Rights Chairperson and Justice Secretary, I can look everyone straight in the eye and say: My track record as a public servant has never been tarnished by any wrongdoing, except until now based on manufactured lies. I have never used and will never use my position for my personal interest.
I am innocent. I have never betrayed and I will never betray the trust of my country and the Filipino people.
Clearly, this administration has evil and dangerous plans: to make an example of me to intimidate, silence, and destroy anyone who dares challenge them; to draw public attention away from the government's abuses and failures; and to cover up their most murderous war on drugs. In the past seven months, the death toll of this war has exceeded the number of deaths recorded during the 14 years of Martial Law and the Marcos regime.
This fight is not mine alone. This fight is our fight for the victims of government's failed war on drugs, especially for seven-year-old Saniño Butucan of Cebu, five-year-olds Danica May Garcia of Pangasinan and Francisco Manosca of Pasay City, and four-year-old Althea Fhem Barbon of Negros Oriental. Perpetrators of these hideous crimes have no conscience; even worse than them are those in power who allow these to happen.
From all these violence, killings and crooked governance of the Duterte regime, clearly, I am not the Public Enemy No. 1 here, but this regime which has no respect for basic human rights, especially the right to life.
Since the start of his term, Mr Duterte has brought in the entire machinery of the State to silence me, and to destroy my person, credibility and honour as a woman. If they can do this to a sitting Senator, what is stopping this administration from doing the same to ordinary Filipinos?
If they think that by jailing me, I will turn my back on my principles, they are mistaken. Instead, they have encouraged me more to pursue truth and justice.
I have long prepared myself to be a political prisoner of this regime. Rest assured that I will answer all the accusations against me in the proper time and venue. To the best of my ability, I will fulfil my duties as Senator of the Republic. Even in prison, even as I continue to be persecuted by this government, for as long as I live, I will continue fighting the good fight up to my very last breath.
To Mr Duterte: Stop the killings now! Stop harassing me, stop this madness! Instead, the Filipino people are begging for your undivided attention to address the myriad problems our country face.
I call on the members of the Fourth Estate to guard our fragile democracy against attempts to curtail our rights and freedom, and against the return of dictatorship.
I urge people of conscience everywhere: Please pray for the Philippines. I ask you to remain vigilant and continue to fight, so that true justice and respect for human rights prevail. Let us not allow this administration to continue violating our Constitution, disrespecting our laws, and taking the lives of our countrymen.
I am hopeful that we will not remain silent in the face of the daily killings taking place in our midst, the flagrant violations of our fundamental rights, and the deliberate efforts to poison our minds, and that of our children.
Let us fight for our rights, let us fight for justice, let us fight for democracy.
READ MORE: