Jo Yoon-hee got their daughter's custody after the divorce with Lee Dong-gun.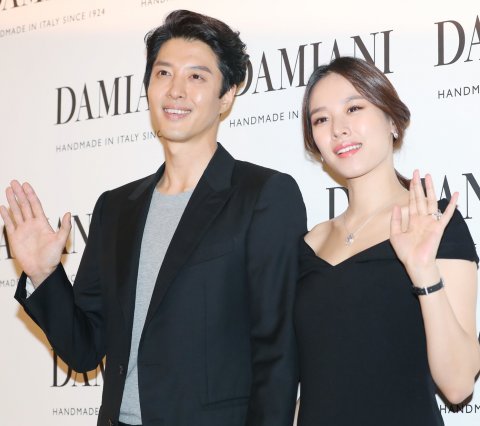 South Korean celebrity couple Lee Dong-gun and Jo Yoon-hee are now divorced after three years of marriage, according to the latter's agency Thursday.
"Cho Young-hee divorced Lee Dong-gun following a divorce settlement at a court in Seoul on May 22," said King Kong by Starship, Jo's management agency.
"Hello. This is FNC Entertainment. First, we would like to express our regret at having to convey this unfortunate news to fans who love Lee Dong-gun. Lee Dong-gun reached the decision of divorce after serious contemplation, and on May 22, he completed the divorce arbitration proceedings at the Seoul Family Court. We apologize for causing concern to many, and [Lee Dong-gun] will work harder to give a better impression as an actor," said Lee Dong-gun's agency.
The two actors first met in the 2017 TV series "The Gentlemen of Wolgyesu Tailor Shop." According to Soompi, Lee Dong-gun's agency FNC Entertainment and Jo Yoon-hee's agency King Kong by Starship revealed, "The two of them developed romantic feelings and began dating near the end of 'Laurel Tree Tailors.' Please support them."
Lee Dong-gun and Jo Yoon-hee announced that they were dating as the series ended on February 26, 2017. 
Also read: Korean arrested for abduction of fellow Korean in Ermita
Lee Dong-gun, Jo Yoon-hee divorce after 3 years of marriage
"We all dream of a special kind of love. A special kind of love that is not meant for special people but one that occurs when two ordinary people meet together. That radiant love is shining out there now somewhere," stated Jo as according to All KPop. "It's embarrassing to say but I think I become that radiant love for someone. You all probably have read the news by now, thank you so much for your congratulating messages and support. Please look forward to our blossoming love."
The couple then got married in May 2017 and welcomed their daughter by December of the same year. 
Lee Dong-gun wrote to fans, "I am writing this because I think all of you should be the first ones to know. Jo Yoon-hee and I, who met through a drama and became lovers, have registered our marriage and legally become husband and wife. While preparing to get married, we were blessed with a child, and we are thankfully and eagerly waiting for the child's birth."