An embassy worker found the Chinese Ambassador to Israel dead inside his official residence in a coastal suburb north of Tel Aviv, Sunday morning. 
Ambassador Du Wei, who took his post in February, was found lifeless in his bed by an embassy worker, reports said.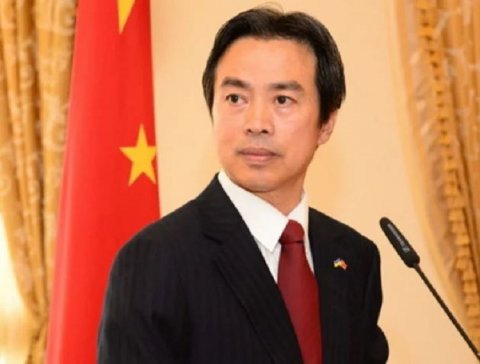 The Israeli police investigation found no reason for foul play to be the cause of death. Officials and preliminary findings said the Chinese government Du's death to unspecified health issues. Mr. Du is already 57 years old. 
Chen Kugel, the head of Israel's National Center of Forensic Medicine and other investigators did not release further comments as they leave the Chinese Ambassador's home. Israel's Ministry of foreign affairs said
Du's wife and children were not in Israel at the time of his death.
Ambassador Du Wei arrived on February 15 and underwent a home quarantine for two weeks before meeting the Israeli Ministry of Foreign Affairs officials on March 3.
Du did not meet with President Reuven Rivlin in person to give his credentials on March 23 because of the face-to-face meeting restrictions brought by COVID-19 threat, officials said. 
Also read: Trump says cutting ties with China would save him $500 billion
Chinese Ambassador to Israel found dead
According to his biography on the Chinese Embassy's website, Du had worked in China's Ministry of Foreign Affairs for more than 30 years. He first served as an ambassador to Ukraine from 2016 to 2019.
Du's appointment to Israel increased the tension with Israel and the United States. He died less than a week after US Secretary of State Mike Pompeo visited Jerusalem. Pompeo openly criticized China's response amid the COVID-19 pandemic there. He also urged the Israeli leaders to stop signing major infrastructure and communications agreements with Chinese companies. 
China has been investing heavily in Israel in recent years. It built hundreds of technological start-ups and acquired a controlling interest in the dairy food-processing company Tnuva.
But Israel alienated the US when it allowed a company majority-owned by the Chinese government "sign a 25-year lease to run Israel's commercial seaport in Haifa, a frequent port of call for the United States Navy, beginning in 2021."
Another was when it included a Hong Kong-based company, Hutchison Water International, in a bid to build a desalination plant that Israel near Israel's Palmachim air force base, which is said to the largest in the world.