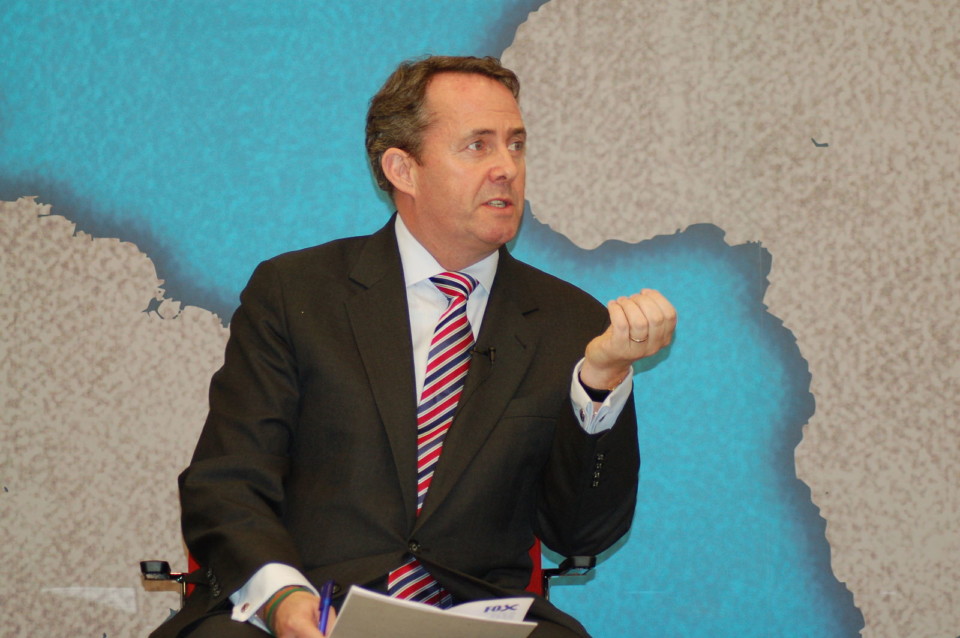 Dr Liam Fox, one of the leaders of the Brexit campaign and now minister for trade, is currently paying a two-day visit to the Philippines, hoping to boost trade between the two countries. Here, in an open letter to the Philippine business community, he sets out his hopes for stronger ties:
AS THE UK government begins the historic process of leaving the eu, now is the time to look forward to our future trading relationship with the world.
As the first International Trade Secretary for UK government, the creation of my department shortly after the referendum was a clear sign of the UK's desire to be more internationally engaged than ever before. It is our role to help UK businesses take advantage of the vast opportunities that await the UK outside the European Union, in vibrant and fast-growing economies like here in the Philippines.
It is the UK government's ambition to create a Global Britain — one that is both a good friend and neighbor to our European partners, and a country that extends the hand of economic and cultural friendship far across the world. In South East Asian markets, we've seen consistent growth averaging five percent a year and a combined gdp of $2.5 trillion thanks to a commitment to build on international links.
BusinessWorld Photo© Copyright 2016, BusinessWorld Publishing Corporation BusinessWorld Photo
So my message to companies and investors looking to do business with the UK, on the first leg of my South East Asian trip this week, is that the UK remains an outward-looking country, open for business.
It is our intention to become the world's natural business partner, one that strives to be a champion of global free trade.
Free and open trade is progressive, helping growing economies raise standards of living, and drive down costs of everyday household products for consumers.
The Philippines has seen a real surge in growth over the last few years and this has created a wealth of opportunities for the UK, as the single largest European investor in the Philippines.
The UK and the Philippines have a well-established and strong relationship built on a foundation of shared values and shared interests and we want this partnership to continue to flourish. My visit to the Manila is a chance to see and hear about the huge potential for strengthening relations between our countries.
British exports to the Philippines rose by 38% in 2015 — the strongest ever growth performance for UK exports across the region. When you look at the strength of our bilateral trade and investment relations — Philippine companies have invested over £1 billion into the UK since 2014 — you can see the many opportunities to expand on this even further. UK expertise can help the Philippines with its infrastructure development, including by supporting financing of projects — especially with the greater use of UK Export Finance (UKEF) credit. UKEF can support the sourcing of UK goods, services and expertise for Philippine projects, whether as suppliers or providers. UKEF's capacity to support trade with the Philippines is doubling from£2.25B to £4.5B. We have recently supported British Nectar Group in the development of the Philippines sea port in Bataan.
The demand for British expertise and quality can lead to exciting collaborations in infrastructure and education, as well as opportunities to become partners and leaders in a range of sectors such as defense, health care, marine and financial technology.
British architecture and engineering expertise are already helping to meet the region's infrastructure needs and I'm keen to explore what more UK businesses can do to help achieve these ambitions.
My visit to the region is an important part of the UK's outward looking approach to trade and investment and I look forward to meeting with governments and businesses to discuss how we can work more closely together to overcome barriers to trade and ensure globalization acts as a force for good, spreading prosperity.
As the UK emerges from this period of change as a stronger, fairer, more united and more outward-looking nation, I hope this will lead to stronger relationships between the UK and our trading partners in South East Asia creating an era of even greater opportunity.
Rt. Hon. Dr Liam Fox MP is the UK Secretary of State for the Department for International Trade and President of the Board of Trade.