Authorities rescued 13 women, including 12 minors, from a cybersex den in Barangay Ambago in Butuan City on Thursday.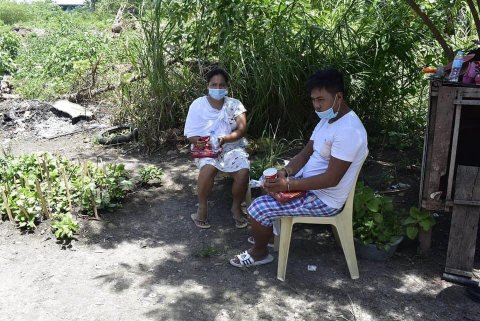 According to police, four of the victims were aged one to three years old.
The nine victims, aged 11 to 19, were forced to work for P2,000 to P20,000, depending on the type of "show" the online client had requested from the Philippines or abroad.
The surveillance and case build-up of the Women and Children Protection Center – Mindanao Field Unit against the suspect, began December last year.
Authorities recovered cellphones, identification cards, remittance cards, remittance center receipts, lubricants, tablets, and routers from the cybersex den in Butuan.
Four improvised weapons were also recovered: a replica of a .45 caliber and .38 revolver, ammunition, and sharp objects believed to be owned by the suspect's live-in partner.
The suspects are now in the custody of authorities, while the victims have been turned over to the Department of Social Welfare and Development.
Authorities are now preparing charges in violation of Republic Act 9208 (Anti-Trafficking in Persons Act of 2003), RA 9775 (Anti-Child Pornography Act of 2009), RA 10175 (Cybercrime Prevention Act of 2012) at RA 7610 (Special Protection of Children Against Abuse, Exploitation and Discrimination Act) against the suspects.
Also read: Duque's statement on virus transmission, 2nd wave 'ridiculous'-senator
---
Businessman shot dead in Bacolod
Roland Tan was just closing his shop and about to ride in his SUV when an unidentified suspect approached and shot him on Narra Street in Bacolod City on Thursday afternoon.
The victim was pronounced dead on arrival after suffering bullet wounds to the head, chest and other parts of the body.
According to Police Maj. Reynante Jomocan, a gunman was seen running with two other masked men into an alley, crossing Yakal Street during their escape.
Authorities believe the victim's death was related to his business. They are also reviewing a copy of the CCTV footage near the scene to identify the suspects.
The victim owns several agricultural product stores in the city of Bacolod.
Also read: 2 Chinese nationals arrested for selling 'COVID-19 cure' in Cavite