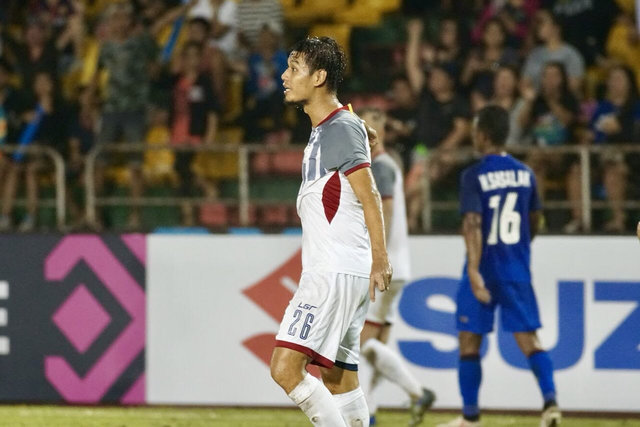 The Azkals scored an 81st-minute equaliser to earn a 1-1 draw against Thailand in the group stages of the AFF Suzuki Cup.
The result at Bacolod City's Panaad Stadium on Wednesday (November 21) means the Philippine national side are yet to be beaten in the Southeast Asian tournament.
Following a goalless first half — largely dominated by the Azkals — the Philippines came close to breaking the deadlock in the 51st minute when Stephan Schrock set up Phil Younghusband, only for his strike to be saved by Thai keeper Chatchai Budprom.
However, just five minutes later, the War Elephants opened the scoring when Philip Roller broke free down the right and slid in a cross for Supachai Jaided to  finish.
Despite suddenly finding themselves as the underdogs, the Azkals — whose name means 'street dog' — kept their heads up until substitute Jovin Bedic found space on the edge of the box, with just nine minutes left on the clock.
With neither side able to find a winning goal, both remain unbeaten in the tournament and are joint-leaders of Group B, with seven points apiece. 
Go Azkals!
Speaking after the match, ex-England manager and newly installed head coach Sven-Göran Eriksson said the result flattered Thailand more.
"Very good match. Both sides wanted to play football. I think Thailand is more happy with 1-1 than we are, but 1-1 is okay. The most important for me as a coach was to see that we can play very good football. And we did it for 90 minutes, which we didn't do in the last game."
Speaking of Bedic's goal, which arrived just three minutes after he was called from the subs' bench, he said: "You never know, I didn't know what would happen if I put him in. I've seen him training and I've seen him training on video, and he's a good player, he made things happen."
From the notoriously understated Swede, such words amount to high praise indeed. "In the camp, he was doing well, he was physically strong, so I'm very happy that he scored the goal and I'm happy and everyone is," he added.
However, with one game still to be played, it cannot be guaranteed that the Azkals will reach their first semi finals in an international tournament. 
But for those who dare to dream, the team will need only a draw against Indonesia on Sunday to progress.
Follow our Facebook page for full coverage of the national team
…