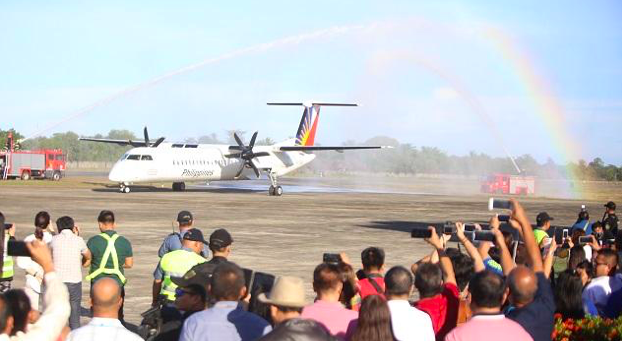 Water cannons greeted the maiden flight of PAL's new service from Clark to Antique Province's Evelio B Javier Airport in San Jose de Buenavista.
PAL Corporate Communications Vice President Jose Enrique Perez de Tagle said the new route would also allow passengers to fly conveniently to Manila and to PAL's 17 other domestic destinations like Cebu and Palawan via their growing hub in Clark.
PAL had previously run flights into Antique in the 1960s and 70s. The flight today (Sunday, December 16) was the first to land since then.
Department of Transportation (dotr) Undersecretary Manuel Antonio Tamayo said he return of PAL to Antique was a historical milestone.
He also said that PAL's return would spur the development of the whole province. "Patronise the flight to sustain it," he told the Antiqueños.
The new route, to be served by an 86-seater PR- C5910, now flies from Clark to Antique and vice versa every Sunday and Tuesday.
Antiqueños who enjoyed the maiden flight have encouraged others to also use the flight.
Ronnie Vicedo, who was on vacation with his family, said they were so lucky to have been part of the historic event, and so far, they had a "very pleasant experience on board" the PAL Express.
His wife Glenda added they had last come home to the province about 12 years ago from Australia, and they were happy they were able to take the maiden flight.
Meanwhile, the Antique Harvest Fair opened on Friday (December 14) at Robinson's Mall.
Dubbed as Antique Harvest, it is the first in Western Visayas and aims to promote culinary heritage and tourist destinations in the 18 towns of the western province.
It features 22 exhibitors featuring farm tourism sites, destinations, local food and travel agencies that promote sustainable travel.
Follow our Facebook page for daily news updates
…