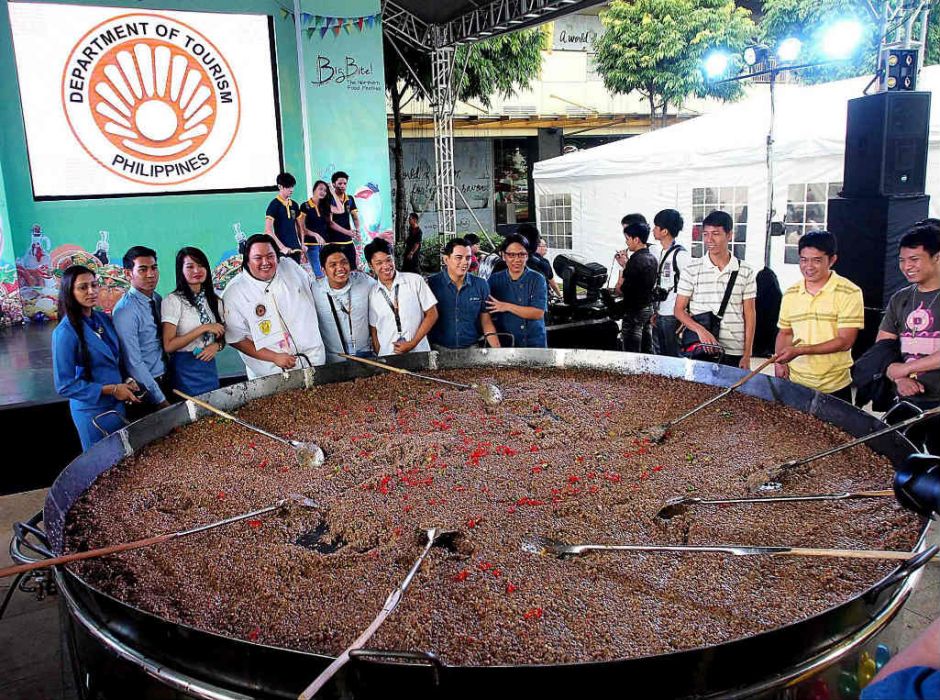 Angeles City is hoping to be declared a "creative city for gastronomy" by the United Nations Educational, Scientific and Cultural Organisation (Unesco) for its signature dish sisig.
The city is pushing its application by holding a Sisig Fiesta on Saturday, April 29, at the Crossing, a stretch of food stalls alongside abandoned railway tracks where the dish is said to have been perfected.
In March, city Mayor Edgardo Pamintuan approved an ordinance declaring the sizzling sisig babi (pork dish) an "intangible heritage."
The ordinance protects and promotes the original recipe, which consists of "boiled then grilled chopped pig's ears or cheeks seasoned with chopped onions or shallots, red hot chilli peppers, vinegar and/or lemon juice, salt and pepper. Minced grilled chicken liver is optional.
However, Mayor Pamintuan warned: "It's a mortal sin to put raw egg or mayonnaise on the sisig."
City tourism chief John Montances said securing Unesco recognition required regular food festivals to be held to celebrate the dish. The city tourist office is also certifying restaurants that serve the recipe to maintain standards.
In the local Kampangan language, sisig means "to snack on something sour" and the first references to the dish described something like a salad made with unripe fruits, often eaten by pregnant woment.
It was only later that the meat began to be added, and if local lore is to be believed, it was all thanks to the Americans!
The story has it that chefs at the Clark Airbase had no use for pigs heads, and would simply throw them into the trash.
This was soon noticed by enterprising locals, who agreed to take them, along with other "waste" items, such as chicken livers.
With these ingredients, the dish began to take shape, but it was one woman — Aling Lucking, the Sisig Queen — who pioneered the sizzling dish at her stall next to the railway tracks.
The festival on Saturday will feature a sisig sampler banquet, night market, culinary competitions, cooking demonstrations, live bands and a street dance contest.
Proceeds from the event will be given to the School of Living Traditions at Museo Ning Angeles.
The festival is just the latest in a packed calendar of events across the Philippines this month to celebrate the nation's gastronomic heritage. Read more here.
For advice on the best bargain hotels in Angeles, click here.