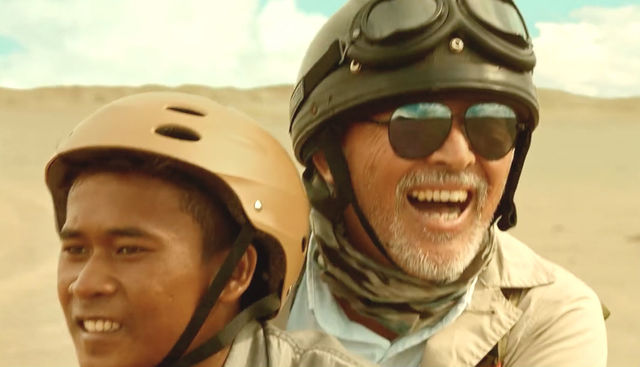 High praise for what appeared to be a charming, engaging promotional video released by the Philippine Department of Tourism (DOT) soon gave way to accusations of plagiarism.
Within hours of a commercial called Sights being released under the new tourism slogan of 'Experience the Philippines', keen-eyed netizens pointed out the undeniable similarity to a commercial produced by South Africa's tourism authorities in 2015.
The short film follows a retired Japanese man called Mr Uchimura enjoying the sights of the Philippines, such as the Hundred Islands of Pangasinan, the Banaue Rice Terraces in Ifugao, the Paoay Sand Dunes and the colonial quarter of Vigan.
At the end of the video (spoiler alert) it is revealed that that Mr Uchimura is blind. He then says: "Here, you don't have to see the sun to discover radiance; you don't have to see colors to experience vibrance; you don't have to see smiles to know you are safe; you don't have to see to feel you are home."
The plot and style of the commercial, which was released yesterday (Monday, June 12) is clearly aligned with the older Meet South Africa promotional video.
https://www.youtube.com/watch?v=k6w7fwDrIzo
https://www.youtube.com/watch?v=DjGVOTJUHA0
After the similarity was pointed out, McCann Worldgroup Philippines, the advertising agency behind the ad, issued a statement denying that it copied anyone else's work, and saying the film was inspired by a true story of a visually-impaired retired man in the Philippines.
"We acknowledge the feedback that the way this story was told may have similarities with the South African tourism campaign," the statement read.
"It is unfortunate that the DOT has been called out and accused of plagiarism, for work we have done to highlight the testimonial of a real retiree.
"We take full responsibility as ALL ideas and storyboards presented were conceptualized by McCann Worldgroup Philippines.
"However, we underscore that there has never been any intention to copy others' creative work. McCann Worldgroup Philippines has always strived to adhere to our guiding principle, 'Truth Well Told,' in everything we do. We stand by the integrity with which this campaign was developed."
The new commercial is part of the DOT's new campaign and slogan. 'Experience the Philippines' that has take the place of the previous slogan, 'It's more fun in the Philippines', which has nonetheless been retained as a secondary motto.
DOT spokesman Frederick Alegre ruled out withdrawing or re-editing the commercial.
"We stand by McCann, we stand by the creative execution of the ad," he said. "We know for a fact that the Philippines is a choice destination, a choice place to stay for retirees. It's all part of the series of ads to show the spirit of the Filipino."
He added the narrator in the Sights video was a "real" Japanese retiree who lived in the Philippines, unlike the South African ad, in which the narrator was a tourist.
"There are really creative executions to similarly-situated stories that have unique propositions," Mr Alegre said. "It can be about anything under the sun we experienced, but we can use it in a different angle. It's something that is accepted in the advertising industry."
Here are the two videos side by side: