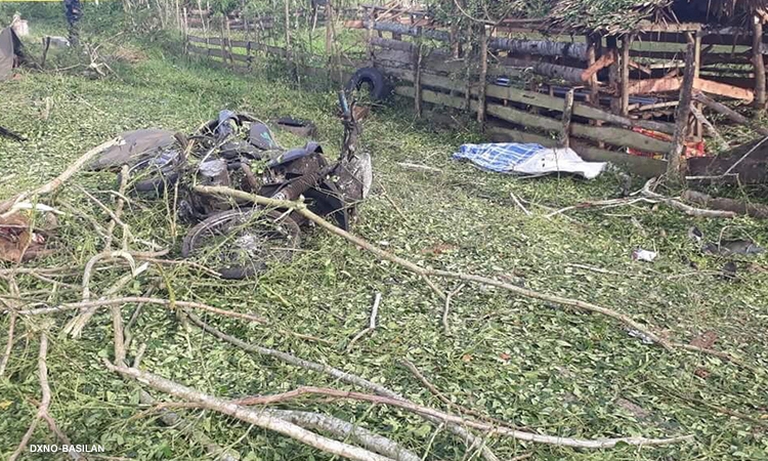 Eleven people were killed after a bomb-laden van driven by a suspected Abu Sayyaf terrorist exploded on Basilan Island.
The powerful improvised device packed inside a white van was detonated at about 5.50am today (Tuesday, July 31) at a security checkpoint just outside Lamitan City.
Army spokesman Colonel Edgard Arevalo said initial intelligence suggested the unidentified driver of the van was a follower of Furuji Indama, a ruthless commander of the Islamic State-affiliated Abu Sayyaf.
The blast killed one soldier, five government militiamen, four of their relatives, including a 10-year-old child, and the van driver.
Speaking of the driver, another military spokesman, Lieutenant Colonel Gerry Besana, said: "If he triggered the bomb, he was probably waiting for a more opportune time to inflict harm on a bigger number of people.
"That's their death wish – the more, the merrier."
The explosion toppled power lines, tore down a concrete wall, destroyed some vehicles and left a crater on the road.
Abu Sayyaf remains a threat
Militiaman Gregorio Inso, who lost his wife in the blast, described how the van had been flagged down for inspection. His colleagues looked inside, and saw strands of wire. They then called over a group of scout rangers.
"When the rangers were approaching, the vehicle suddenly exploded," Mr Inso said. "When I looked again, everyone was dead."
The initial police report described the van driver as "foreign", but Col. Arevalo said this could not be verified because the driver and those who saw him close-up were all killed by the explosion.
Investigations are continuing to discover if the explosion was the result of a single bomb, or several. It is also unclear whether the driver detonated the explosives or they were triggered remotely.
The Malacañang Palace has condemned the attack, calling it a "war crime" and "indiscriminate".
Presidential spokesman Harry Roque said: "Authorities are now investigating the incident even as we vow to bring the perpetrators of this brazen attack to justice."
Abu Sayyaf, which was founded in the late 1980s in Basilan, has been blacklisted by the US and the Philippines for bombings, kidnappings for ransom and beheadings. It has been weakened by government offensives — particularly since the declaration of martial law throughout Mindanao — but remains a serious security threat. Read more about the terror group here.
UPDATE: In a statement carried by its Amaq news agency, the Islamic State has claimed responsibility for the suicide bombing attack, which it called "a martyrdom operation."
Follow our Facebook page for daily news updates