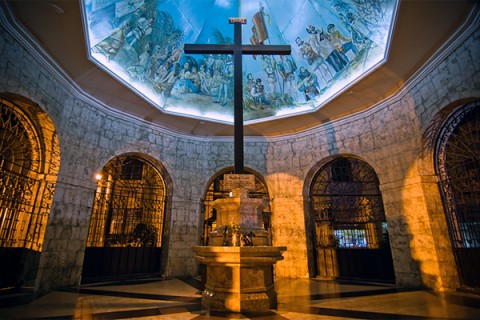 One of Cebu's most historic landmarks is being eating by termites, the 494-year-old Magellan Cross, and the pavilion which houses it, will be closed off as experts are brought in to help save the historic relic.
The Augustinian Religious Community is the caretaker of the visitor attraction. At first they decided to leave the cross open to the public but more recently have chosen to shut off the pavilion from tourists.
"We had closed the Magellan's Cross because after we lifted the cross, we found the original material, which is the wood which had been there for many years, to be deteriorating," said Father Harold Rentoria, Chairman of the Commission on Cultural Heritage of the Augustinian Fathers.
The marker is the first sign of Christianity in the Philippines – the cross is sheltered by a tile-roofed, octagonal shaped pavilion at Magallanes Street in downtown Cebu City.
"I don't want to show people of the condition of the wood," Fr. Rentoria added, while assuring the public that they were carefully and properly supervising the treatment of the original cross, a sample of which had been taken for testing by a group of specialists.