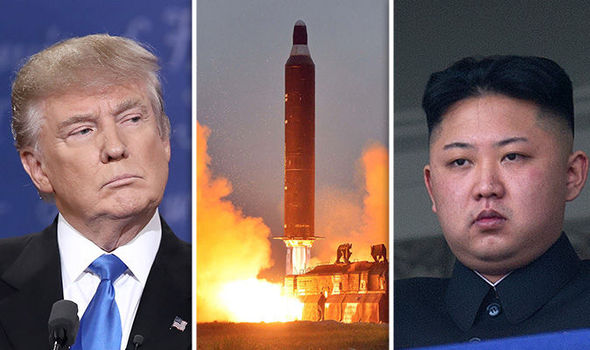 President Trump has warned China that if it fails to make North Korea disable its nuclear programme, then the US would be prepared to take action alone.
The words come as South Korean, Japanese and US forces hold a joint naval exercise today designed to counter the threat of North Korean submarines.
The comments, in an interview published by the UK's Financial Times, seemed an attempt to pressure Chinese President Xi Jinping ahead of his visit to Trump's Mar-a-Lago resort in Florida this week.
He said: "China has great influence over North Korea. And China will either decide to help us with North Korea, or they won't. And if they do, that will be very good for China, and if they don't, it won't be good for anyone."
When asked what incentive the US had to offer China, he said: "Trade is the incentive. It is all about trade."
Asked if he would consider a situation in which China pressured Pyongyang in return for the US removing its military presence in the Korean peninsula, the president replied: "Well if China is not going to solve North Korea, we will. That is all I am telling you."
The president's national security aides have completed a review of US options to curb North Korea's nuclear and missile programmes that leans towards sanctions and increased pressure on Beijing to rein in its neighbour.
Although the option of pre-emptive military strikes have not been ruled out, the review prioritises less-risky steps and "de-emphasises direct military action."
NUCLEAR THREAT
The president's deputy national security adviser, K T McFarland, said there was a "real possibility" North Korea could be capable of hitting the United States with a nuclear-armed missile by the end of Trump's four-year term, the Financial Times reported.
McFarland's estimate appeared more pessimistic than those of most experts, who put the timescale at closer to five years.
John Schilling, a contributor to the '38 North' North Korea monitoring project, said: "I doubt that any missile they could put into service by the end of 2020 will be very reliable, but perhaps it doesn't have to be — one or two successes out of six launches against the US would be a political game-changer to say the least."
Trump and Xi are also expected to discuss Chinese actions in the South China Sea when they meet on Thursday and Friday.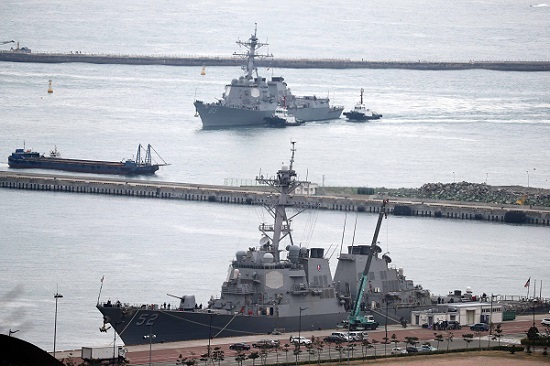 WAR GAMES
Meanwhile South Korea, Japan and the US held a joint naval exercise today (Monday, April 3) aimed at preparing for threats from North Korean submarines.
The three-day drills, involving more than 800 troops, began off South Korea's southern coast near Japan, featuring multiple naval destroyers and helicopters used in anti-submarine warfare, the South Korean Defence Ministry said.
It was aimed at "ensuring effective response to the North's submarine threats including the submarine-launched ballistic missiles (SLBM)," and "demonstrates the three countries' strong determination", according to the ministry.
READ MORE:
China threatens American bomber on exercise near the coast of South Korea
Kim Jong Un vows to hit USS Carl Vinson as carrier drills with South Korean forces (video)
How do you solve a problem like Korea? Can US and China sing to the same tune?
Long-range missile silos on China's artificial islands are 'early test' for Trump
US Navy aircraft carrier strike group enters the South China Sea
Chinese and American military planes in near miss over South China Sea
Steve Bannon: There is "no doubt" of war with China over disputed waters
Trump vs China: Fresh war of words over South China Sea dispute
China warns USA: Prepare for devastating war if you block us from disputed waters
China's new aircraft carrier leads battle group into international waters