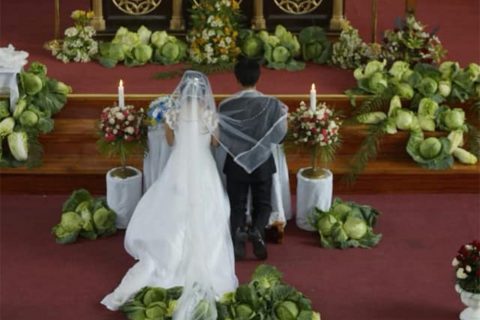 Wedding vegetable arrangement in Benguet instead of traditional flowers goes viral.
The wedding was held in La Trinidad, Benguet wherein the newlyweds used fresh vegetables to decorate the church's San Jose Parish Church in July 2019.
Claver and Fleann Molot, the couple who tied the knot arranged lots of cabbage, broccoli, cauliflower at the church's altar. They used cabbage variants of different colors to maximize creativity. The isle is also adorned with broccoli and cauliflower.
The report says the couple used 100 kilos of wombok and cabbage to decorate their wedding venue. The "chop suey" themed wedding was an instant hint to netizens. Comments say it was a brilliant idea.
Wedding vegetable arrangement in Benguet aunt's idea
Claver and Fleann said that it was their aunt who suggested to use vegetables instead of expensive flowers for their wedding decorations.
"Idea siya actually ng Tita ko, Tipid din siya tapos mas mahal actually yung bulaklak nung kasal namin. Mas mababa yung gulay kaya yun na rin yung pinili namin." said Fleann durin an interview with ABS-CBN News.
Farming vegetables is the couple's bread and butter so they did not hesitate to give in with the idea.
Aside from saving costs, vegetables have deeper meaning to the people of La, Trinidad. Leopoldo Lamis, an elder says, "It signifies peace, happiness also and prosperity." La Trinidad, Benguet and the Cordillera is well-known for its fresh vegetables and rich culture.
The Molots said it was "two birds in one shot" decision because after the vegetables were used as adornment, they were also used as a wedding give away for their guests. Nothing was wasted.
According to the Molots' relatives who designed the vegetable decor, they plan to do the same for the upcoming weddings in their family.