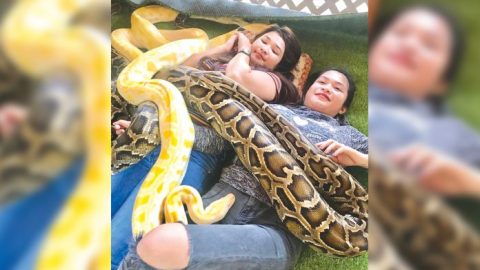 Snake massage in Aklan gives thrill and chill to tourists in a mini zoo, Kalibo, Aklan.
For only 100 pesos, tourists can experience the exotic snake massage pampering at Kalibo Ostrich Farm in Barangay New Buswang, Kalibo, Aklan.
Clients will be asked to lay down on a bamboo bed then the three Burmese pythons will slowly crawl over their bodies for a one of kind massage experience.
The pythons weigh about 50 kilos each and 13 feet long.
The farm owner Edmund Tabon assured clients that the pythons were cleaned and full before they begin the massage. He also said that pythons, unlike other snake species, were non-venomous.
Snake massage has no proven therapeutic and healing benefits yet but for the courageous tourist who tried it, it was worth it to try.
Kalibo Ostrich Farm also has 40 Australian and African ostriches visitors may feed and interact with.
Snake massage in Aklan, Cebu, and other parts of the world
In 2013, Cebu City Zoo also offered snake massage to tourists. The snake massage experience is free but the entrance to the zoo costs 20 pesos for children and 25 pesos for adults.
The zoo has four Burmese pythons namely Michelle (87 kilos), Walter (76 kilos), EJ (39 kilos) and Daniel (24 kilos).
The whole massage lasts for 10 to 15 minutes.
Other countries who also have snake massage were Israel, Russia, Thailand, Indonesia, and Brazil. The activity is recommended to those who want to overcome their fear of snakes.