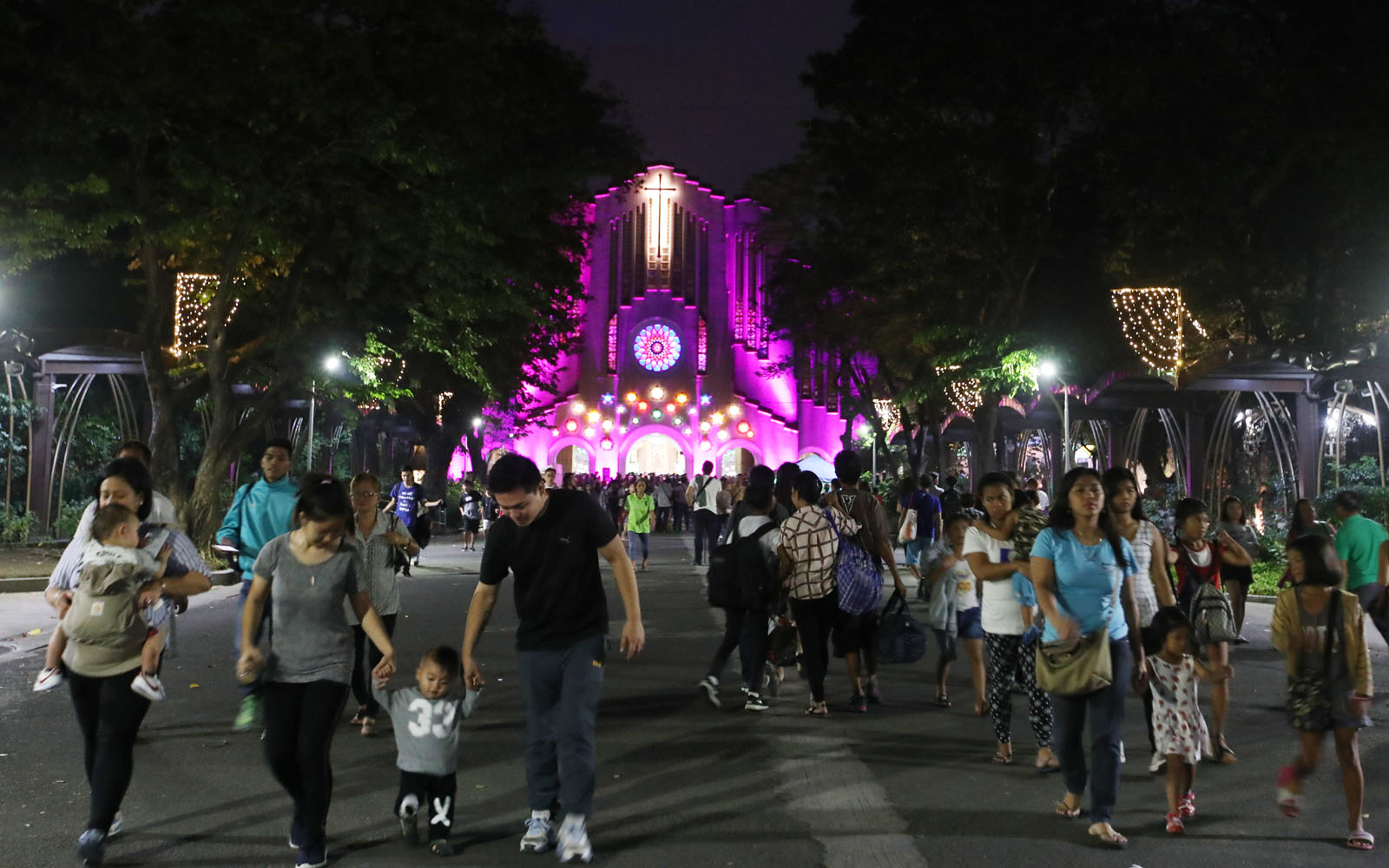 Attending Simbang Gabi or Misa de Gallo (dawn mass) for nine days is one of the most distinctive traditions of Christmas in the Philippines.
From December 16 to 24, Filipinos from all walks of life make an effort to wake up every dawn to attend the novena masses which start as early as 4am. 
However, as the days for the Simbang Gabi fall in the middle of the holiday rush with Christmas parties, heavy traffic and malls packed with shoppers, one begins to wonder if the people still have time to observe this tradition.
It is encouraging to note that most Filipino Catholics still attend Simbang Gabi despite their busy schedules because they believe that when they complete the nine masses, their wishes will come true.
Cherry Rose Datiles, an overseas Filipino worker in Spain, said her wish to work abroad was granted after she was able to almost complete attendance in the nine-day masses.
She said: "Before I went to Spain, I always attend the Simbang Gabi even though I'm tired from job hunting. Your wish will be granted if you were able to complete the nine Masses. I really wish before that I will be able to work abroad. I missed a single Mass but my wish was granted a year after that."
Others believe that attending Simbang Gabi is not about fulfilling wishes, but it's part of their family tradition and faith in God.
"The Simbang Gabi is part of family tradition and our faith in God. If families get adapted to this practice, they will always do this. Going to Mass is important for us, Catholics because this is where we give time to God and of course to be together with family. Always have time for God no matter how busy you are. We have a saying: If there's a will, there's a way. For us that have classes early, even though we are busy, we have time to attend the Simbang Gabi after classes," Irish Collene Caña, a graduating student from Centro Escolar University Manila, said.
Simbang Gabi can be flexible
For this reason, many parishes hold Masses in the evenings, usually starting 8pm to accommodate students and employees alike.
One of them is Rosemarie Quimbao, a private sector employee, who usually attends the nine-day masses at the National Shrine of the Sacred Heart in Makati City after her work.
She said she prays that her brother who is a diabetic and regularly undergoes dialysis will be able to recover from his illness.
"I make it a point to attend the Masses after office as this gives me the opportunity to be closer to God. I hope that the Lord will be able to comfort my brother get through his illness. I also pray that my mother who is now in her 70s will be able to have good health," she said.
The stories of these people only prove that despite the holiday rush with all its possible distractions, Filipinos still make it a point to sustain a tradition which is said to have originated from the Spanish period for farmers to go to Mass before they go to work early in the morning.
Simbang Gabi is still an enduring tradition in the Philippines.
Follow our Facebook page for daily updates
…