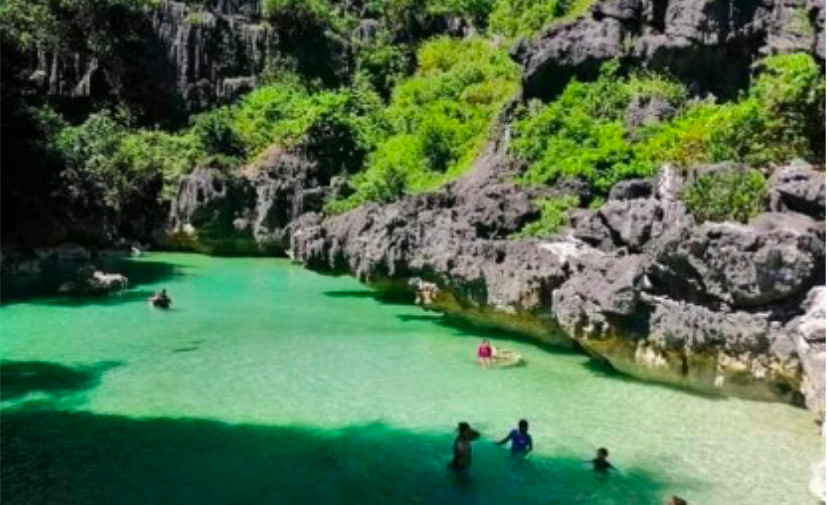 A picturesque saltwater lagoon on the Isla de Gigantes, Iloilo, will be closed to tourists for a one-month rehabilitation.
The Tangke saltwater lagoon near Carles town was ordered closed from yesterday (Sunday, September 1), a local government official confirmed today.
In a telephone interview with the Philippines News Agency, Carles Mayor Seigfredo Betita said local authorities will lead the maintenance and clean-up works on the tourist attraction to preserve its natural beauty.
"We close the lagoon once a year, on September or October, because we give time for it to be kept clean," he said.
There will be "siltation" measures for the lagoon to be freed of items that might be submerged in water. Some of these items, Betita said, might be trash left behind by tourists.
The temporary closure was also implemented to keep the tourists safe from any harm as "waves are high" in the famous tourist spot at this time, according to the mayor.
"The waves are high and we prevent any accidents that tourists might encounter," he said.
The local government usually orders the closure of the lagoon during the southwest monsoon months to safeguard the lives of the tourists, Betita added.
The Tangke lagoon, located at Gabi village in Gigantes Sur, is the number-one tourist attraction in Carles town.
"Almost 95 per cent of the tourists in Carles visit Tangke," Betita said.
Although swimming activities are "limited" in the tourist spot, the mayor said most visitors simply enjoy the view of its crystal-clear waters and white sands.
The lagoon is also said to be mystical as old folks believe Tangke's water can cure diseases.
"It is a natural pool which is believed to have a medicinal magic. Our old generation believes that whoever takes a dip in Tangke waters will somehow be cured from diseases," Betita said.
For the meantime, the local government unit of Carles is inviting visitors to enjoy other tourist spots in and around the town.
"We have a lot of pristine beaches, sandbars, and different spots that can be enjoyed," he said.
Carles town in the northern end of Iloilo province is a three-hour ride from Iloilo City.
Traveling from the Gigantes Group of Islands, meanwhile, can take an hour from Bancal port, being its jump off point from the mainland. 
Follow our Facebook page for daily news updates
…