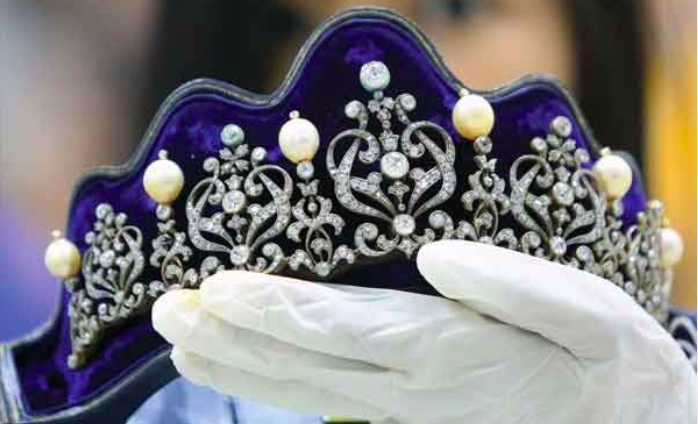 President Duterte has approved the sale of 704.8 million pesos worth of jewellery that belonged to former first lady imelda marcos.
The Presidential Commission on Good Government (PCGG) — the agency set up to recover ill-gotten wealth from the Marcos family — can now auction off the tiaras, bracelets and necklaces, collectively known as the Hawaii Collection. These items, described as "fit for royalty" are encrusted with indian diamonds, Burmese rubies and Colombian emeralds. 
The PCGG request sent to the Office of the President, Executive Secretary Salvador Medialdea, and Finance Secretary Carlos Dominguez was approved by the president today (Thursday, May 30).
Presidential spokesman Salvador Panelo confirmed the decision during a brief interview in Tokyo today. He said: "The president said last night that he is okay with the citizens benefiting from the jewellery. So I asked him, 'Are you going to give the go signal?' He said, 'Yes'.
"What's important is that the sales or proceeds benefit the public."
The collection seized in Honolulu, Hawaii, where the family were living in exile after the "people power" revolt of 1986. 
The jewellery has since been stored in a vault at the Bangko Sentral ng Pilipinas [central bank].
The collection includes a rare, 25-carat pink diamond that Christie's Auctions and Private Sales estimated in 2016 to be worth at least $5 million and a Cartier diamond tiara whose value has risen several fold from an earlier estimate of $30,000 to $50,000.
Imelda Marcos is known for her penchant for jewellery and for her extensive shoe collection. Two other collections of jewellery seized from the family are known as the Malacañang and Roumeliotes collections. Together, the three collections are believed worth at least a billion pesos.
The family is alleged to have pilfered at least 530 billion pesos from government coffers during the 20-year rule of President Ferdinand Marcos.
Imelda Marcos currently sits in the House of Representatives as the Ilocos Norte Second District representative. 
In November last year, she was convicted of graft for funnelling public funds to overseas bank accounts during her husband's regime. She is currently out on a 150,000-peso bail while appealing the ruling. 
Her daughter, imee, was elected to the Senate earlier this month and is an ally of President Duterte. Ferdinand Marcos Jr is another political figure, who narrowly missed out on being elected vice president in 2016. He continues to protest this outcome. 
Follow our Facebook page for daily news updates
…