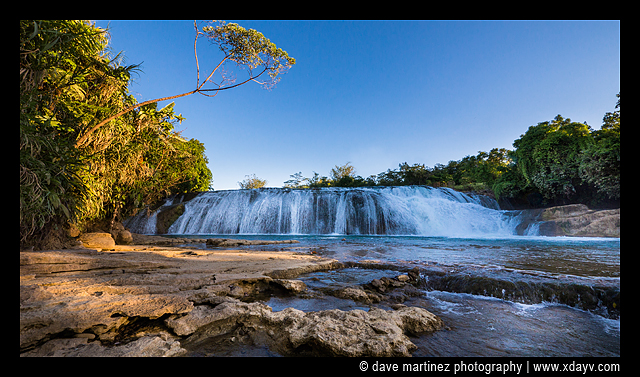 The Lulugayan Falls, a renowned beauty spot on the Island of Samar, have been reopened to visitors after several months of environmental rehabilitation. 
Residents living near the picturesque waterfalls near Calbiga Town have expressed confidence that the improvements will bring economic opportunities to their community.
The reopening was officially announced yesterday (Tuesday,  August 27).
Bella Malubay, president of Literon Women's Association, said: "More visitors mean more income for us. We will be more financially capable to support our children's college education." 
The Lulugayan Falls were closed to the public during the improvement works, which also included "capability training" for local service providers from Literon village.
The project was in partnership with Samar provincial government, Department of Tourism (DOT), and Bantay Kalikasan, which was founded by the late Gina Lopez.
Lulugayan Falls, dubbed the "mini-Niagara", has long been one of Samar's most popular attractions.
The road leading to the falls has now been concreted with funding from the DOT. However, tourists are not allowed to drive right up to the waterfalls in order to preserve the environment. Cars must be left at the parking area of a nearby eco-lodge.
From there, visitors will need to walk about three-three-quarters of a kilometre, passing rice plantations and a picturesque organic farm. 
"It's easy to identify what projects will be implemented, but the difficult process is to select where this will be implemented," Vice Governor Michael Tan said.
The Lulugayan Falls are about 50 metres from side to side, making it one of the widest waterfalls in the Philippines. Its maximum drop is about 30 metres.
The water at the falls starts out at Lake Kalidongan, which has more than 100 smaller cascades before it reaches Lulugayan and drains in the Calbiga River.
Visitors are permitted to bathe in many of the pools surrounding the waterfall, and can also use a picnic area overlooking the falls. There is also a treehouse connected by a hanging bridge that provides a panoramic view of the falls.
Visits to the falls have been limited to 150 per day. Those wishing to visit the site should contact the tourism office in Calbiga.
Follow our Facebook page for daily news updates
…