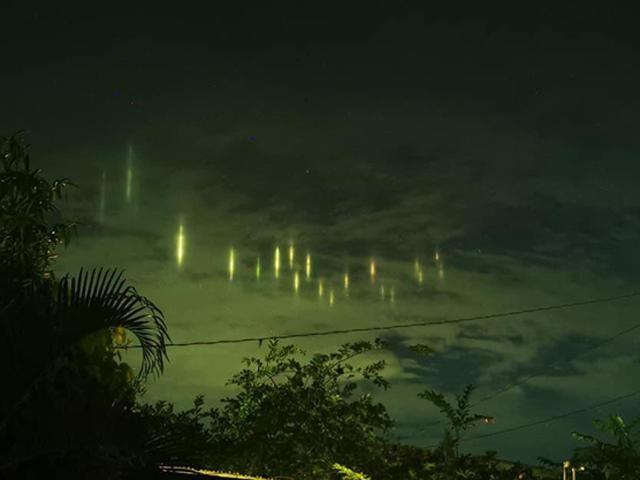 A rare atmospheric phenomenon known as Light Pillars has been captured on camera in the night skies over the province of Sulu.
Social media user Amarkhan Jidara, has shared several photos of the spectacular display that he captured at about 7pm last Sunday, June 30.
According to Sulu islanders, the Light Pillars are a regular occurrence, appearing at least once a year. The locals even have a name for them, calling them "Lansuk-Lansuk", or "candles" in the local Tausug language.
According to a report on GMA News, they are also considered an omen, but opinions are split as to whether they signal approaching tragedy or good luck. 
According to Wikipedia, a Light Pillar is an atmospheric phenomenon in which a vertical beam of light appears to extend above and/or below a light source. The effect is created by the election of light from tiny ice crystals that are suspended in the atmosphere or that comprise high-altitude clouds.
If the light comes from the Sun, the phenomenon is called a sun pillar or solar pillar. Light pillars can also be caused by the Moon or terrestrial sources such as street lights.
In some cases, similar conditions can cause the sun to appear as though it is surrounded by a halo.
As we previously reported, this phenomenon was spotted by residents of Ubay town, Bohol, in May last year.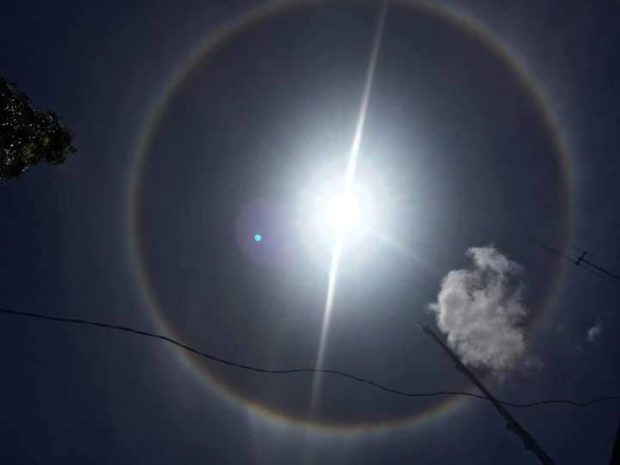 Local government worker Rey Tubo spotted the sight, and posted a number of photographs on his Facebook account. He wrote: "That's what God is. Wonders man."
Engineer Riche Cutamora Ibale also uploaded a photo and captioned it with a succinct scientific explanation: "Called as 22 degree halo or a sun halo, the ring is caused by sunlight passing through ice crystals in cirrus clouds within the earth's atmosphere."
Follow our Facebook page for daily updates
…