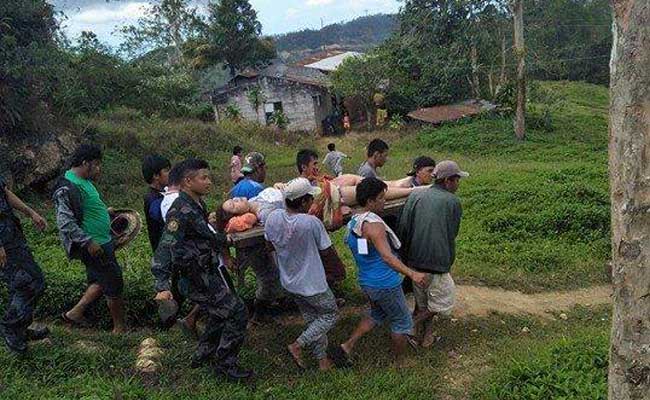 A Hong Kong woman visiting Cebu was seriously injured after a cliff-top selfie opportunity took a turn for the worse.
Lau Ten Yan, aged 35, was hoping for the perfect picture from a 15-foot escarpment on Osmeña Peak on Saturday (April 14).
Dalaguete Mayor Ronald Allan said she lost her footing due to strong winds and suffered a deep cut to her stomach in the fall.
The tourist was rescued by her companions, tour guides, and the local police. She was taken to the Julio Cardinal Rosales Memorial Hospital and then transferred to the University of Cebu Medical Center in Mandaue City.
Rhafael Luche, chief of the Emergency Response Management of the Provincial Disaster Risk Reduction and Management Office, said that she was expected to make a full recovery.
The Hong Kong woman's fall is not the first example of a dangerous selfie in the Philippines.
In April, 2016, we reported how an Israeli pensioner died after tumbling 15 feet down the Banaue rice terraces while engaged in self-portraiture.
Miraim Tau, aged 79, was rushed to the Good News Hospital where she was pronounced dead on arrival due to head injuries.
Then, last October, Eight members of a filipino family were drowned after they rushed to the side of small boat to capture a group selfie. The boat capsized on Laguna Lake, Rizal, during a birthday celebration.
Other selfie takers have remained unscathed — but caused serious injury to local sensibilities.
In April last year, we reported how some foreign tourists sparked outrage by posing for selfies on crosses at the Cutud Lenten Rites in San Fernando on Good Friday.
Netizens criticised their actions, calling them disrespectful of their traditions. Writing on Twitter, one user wrote: "I can't believe they could be so disrespectful!! This makes me so sad."
Follow our Facebook page for daily news updates
…