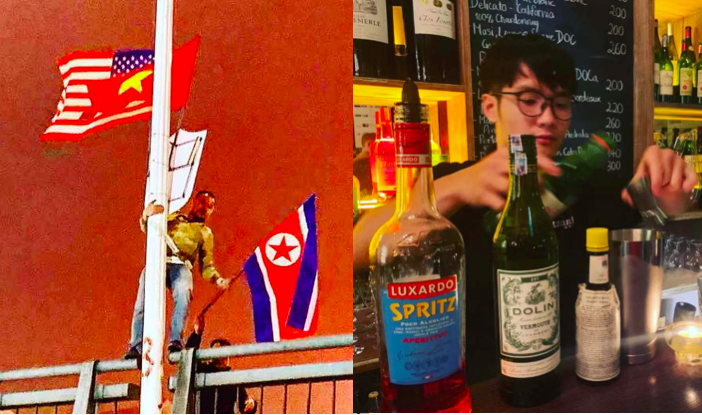 Hanoi is preparing itself for the upcoming summit between Kim Jong Un and Donald Trump with flags, cocktails and a specially brewed beer.
Yesterday (Friday, February 22) workers were spotted placing Vietnamese, American and DPRK flags side by side along certain expressways of the city — perhaps a clue to the route of the coming motorcade?
Today, we have also received eyewitness reports of Kim Jong Un's train arriving in the northern chinese city of Dandong, on the first leg of its estimated 40-hour journey to the Vietnamese border.
As well as posters celebrating the summit on February 27–28, which will to discuss (among other things) the easing of sanctions and the denuclearisation of the Korean peninsula. 
But the people of Hanoi have also decided to see the lighter side of things with a range of peace-themed cocktails on offer.
At Hanoi's Standing Bar, a hipster style microbrewery, they've designed their very own "Kim Jong Ale", said to be inspired by the mountains of Mt Paektu.
Mount Paektu is the traditional birthplace of the whole Korean people, and of course of Kim Jong Il, father of Kim Jong Un.
Mt Paektu — being a volcanic mountain — was said to inspire the drink to be "spicy" with a smooth aftertaste, which I think it mostly delivered (although with a slight aftertaste of kimchi?)
Over at the old quarter, which is the backpacker mecca of the city, many bars seem to be trying to get in on the action. 
Among the most imaginative is the Tannin Wine Bar, which offers its own version of the classic cocktail the Negroni, named the Peace Negroniations. And the secret ingredient? Flavoured soju, although soju from the south of Korea one might add. 
The cocktail tasted pretty great, and the effort and time involved justified its $6 price tag.
Elsewhere, an enterprising barber is offering free "Kim or Donald" haircuts to mark the event, and establishments across the city are flying flags and posters as the clock ticks down to the historic meeting.
Follow our Facebook page for daily updates
…