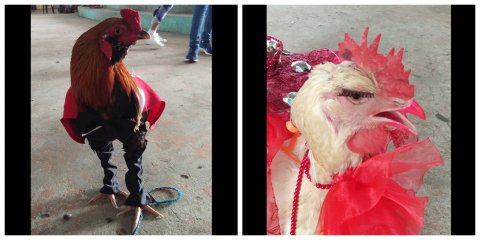 A festival in Iloilo held a one of a kind beauty pageant, for hen and roosters.
Seven pairs of chickens joined the Dress-up Chicken Contest during the Tinuom Festival celebration in Cabatuan, Iloilo this weekend.
Cabatuan was known for the "tinuom" or their way of cooking native chickens and the Dress-up Chicken Contest.
The "tandang" or rooster was styled in colorful shirts and pants while the "inahin" or hens wore fake eyelash extension, lipstick, and even nail polish.
Different chicken breeds joined the competition which aimed to advance the town's chicken breeding industry.
According to Franz Gonzaga, the municipal agriculturist, the contest also showed how the owners take good care of their chickens.
"Kompetisyon gid mayad nga pagsagod, pag present, gindugangan na lang artistry. Ginpabayuan para daw artistic man ang mga contestants," Gonzaga said.
(Kompetisyon ito ng pagalingan sa pag-alaga, pag-prisinta. Dinagdagan na lang ng artistry. Pinasuotan ng damit para maipakita ang pagka-artistic ng mga kalahok.)
(This is a competition on who is best in taking care and presenting their chicken. We just added artistry. We asked them to dress the chickens in a costume to show how artistic the owners are.)
The first place won P3,000, P2,000 for second place, and P1,000 for the third place. Organizers also gave P500 as a consolation prize.
As per the last inventory, there are about 6,000 chickens in Cabatuan.
Different government agencies continue to work together to expand and improve their chicken industry.
Cabatuan supplies the majority of the chicken most prominent restaurants in Iloilo use.