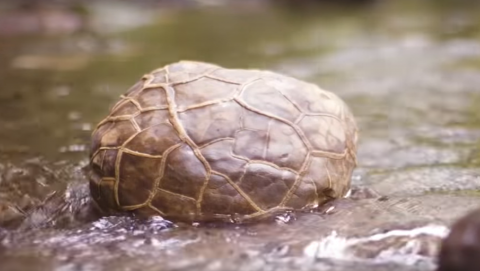 A farmer found a strange stone on his way home in Lopez, Quezon. He suspected that it could be a dinosaur egg.
Edwin Dasal decided to pass by a stream where he found the mysterious stone. Since it was slightly buried, he dislodged it. There he saw a smooth stone covered with embossed lines and weighed almost 25 kilos.
He first thought it was a turtle's shell and even had a tail-like protrusion on one end and hole on the other. Since then, he cannot stop thinking about what is inside the stone.
Someone told Edwin that the stone could be a marker or a map to a hidden treasure. He then explained that the lines could be the different locations in their town which will lead to the hidden treasure.
Police Major Noel Divino, OIC of Lopez Quezon PNP said it was not easy to go to the stream where the stone was found because of the New People's Army's presence there.
Edwin hid the stone until his niece and nephew saw it. They researched on the internet and found that the stone could be a dinosaur egg based on the pictures they observed.
Dinosaur egg in the Philippines?
The first dinosaur egg fossil was discovered in France in the 1850s. Since then, many dinosaurs eggs were recovered from all over the world.
Experts say these fossils came from the Mesozoic Era and were around 45 to 66 million years old.
Dinosaur eggs can be sold to museums and art collectors for $400 to $1,500.
Edwin decided to go to the Mines and Geosciences Bureau (MGB) to know if the stone is a dinosaur's egg.
Geologist and Panteologist Dr. yolanda Aguilar said they need to either break or cut the stone to find out if there's a fossil inside. However, Edwin refused.
Though the stone was not cut, Aguilar confirmed that Edwin's stone is not a dinosaur egg but a septarian concretion.

It is a "compact mass of matter formed by the precipitation of mineral cement within the spaces between particles, and is found in sedimentary rock or soil."
Septarian concretions were frequently used as decorations and jewelry and cost around P1,200 to P1,500. The more expensive ones have crystals inside.
Edwin took his stone home and decided he would use it as a home decoration.
This story was featured in Kapuso Mo, Jessica Soho. watch the full episode here.
Also read: Son kills mother with hammer believing her to be blood-sucking aswang