The yellow painting of actor and ormoc City Mayor Richard Gomez sparked debates on what makes art "art" and valuable.
The controversial painting featured a male sex organ and was sold for P196,000 or almost $4,000.
Gomez entitled his work as "OOOOHH," a 48″x48″ painting which was rendered using black and yellow acrylic paint on wood.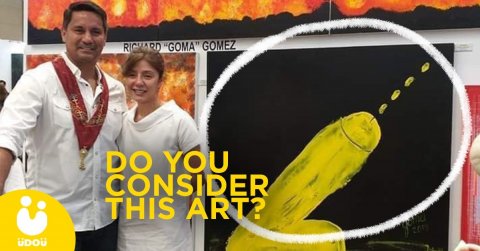 ManilArt 2019 displayed the painting during a public art exhibit at SMX Convention Center in Taguig City.
The actor's art quickly garnered mixed reactions and comments from netizens.
Some said that vandalisms  found in public bathrooms were drawn "much better," while others thought the painting was a "disgrace" to other artists who were forced to sell their works for "very low and inequitable prices."
"The art world, or the economic aspect of art production and distribution, does not work in the same landscape as with common consumer products. Basically, the prices of art are largely dictated by the works' cultural and aesthetic value," user @HanzelEveryday said.
Richard Gomez explained his yellow painting
Mayor and artist Richard Gomez said in a text interview that his art was "self-explanatory. Given a deeper thought, it shows lust, self-pleasure, and power."
Gomez also shared he has been into the painting hobby since the '90s, but he never kept all of them.
"I've been collecting works from painters since the '80s when I started working and earning money. Most of what I've bought are still with me up to now," Gomez shared.
Also read: Taiwanese tourist wears just a 'string' in Boracay fined